Miao culture inspires new fashion designs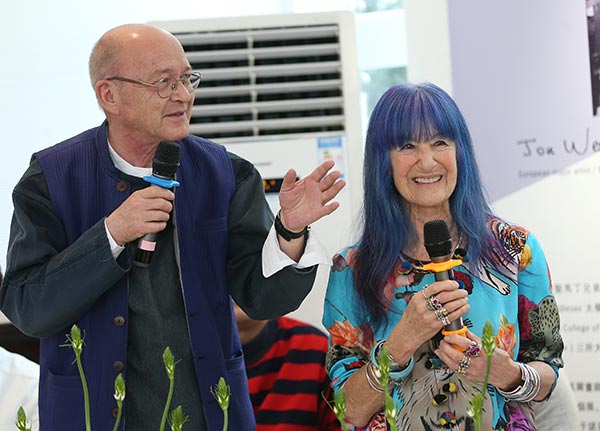 Natalie Gibson (right) [Photo provided to China Daily]
British fashion instructor Natalie Gibson and five of her Chinese students studying in the United Kingdom recently showcased 36 of their designs themed on Miao culture in Guiyang, Guizhou province.
All were inspired by the Miao ethnic elements that are abundant in the area, according to their creators.
Since 1980, Gibson has been the course leader and head of fashion print at Central Saint Martins College of Art and Design, a leading educational institute for art and design under the University of Arts London.
She and her husband, painter Jon Wealleans, had a chance to travel with a group of Chinese fashion students deep into Southwest China's remote mountains to Miao enclaves in Guizhou last year.
Gibson was particularly impressed by a private museum dedicated to Miao culture in Guiyang. It exhibits intricate garments, including some dating back more than a century.
During the trip, they collected dresses, decorations and other items in the region as inspirations for future designs.
After she went back, Gibson worked with her students to complete pieces that combine traditional Miao ethnic elements with modern fashion ideas.
In Guiyang, Gibson and her students introduced their creation process and their inspiration.
Gibson told Chinese media that more people should be engaged in the efforts of international promotion of Guizhou's Miao culture, instead of letting it sleep in the remote mountains.
She said China is rich in traditional culture and young designers can get lots of inspiration from it.
Related:
This season, it's all about sleeves