This season, it's all about sleeves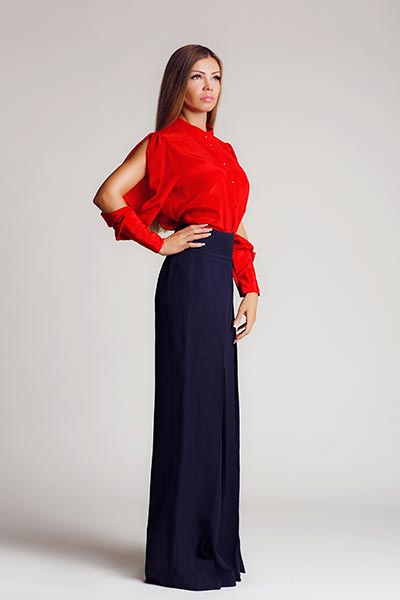 Big brands and high-end designers are lavishing sleeves with their undivided attention. [Photo/Agencies]
Fashion's got something fresh and new up its sleeve this spring-or more precisely on its sleeve.
In fact, it's all about the sleeve as big brands and high-end designers are lavishing sleeves with their undivided attention. The variety is vast, ranging from wildly exaggerated bells to voluminous balloons to more moderate flares and puffs along with fluttery ties and ruffle details.
"We're calling it the power sleeve," says Adam Glassman, creative director of O, The Oprah Magazine, who likes the style so much he dressed his boss, Oprah Winfrey, in a variation on the theme for April's cover.
"It's all about the shirt this season and sleeves are, in general, very feminine, and a great new take on your go-to basic. It's very clever because it entices you to buy something new."
Fashion expert and celebrity stylist Jacqui Stafford agrees.
"It's such an easy and fabulous way to update your wardrobe, you almost don't need to buy anything else," she says. "I absolutely love them-anything with pleating, bells, bows, flounce or ruffle-they're so pretty they sort of replace jewelry."
At Transitions, the fashion boutique in Roslyn, New York, owner Leslie Cohen says: "The whole drama of the season is the focus on the sleeve. Almost anybody can wear it, and my customers are loving the balance of bare, off-the-shoulder and feminine, flowy sleeves as a going-out, date-night top."
"I like any piece of clothing that has multi-purposes," says Glassman, who calls the fresh sleeve silos "workhorses".
"They're a statement piece almost replacing the need for a jacket," he says. "For work, pair them with a trouser or a pencil skirt; at night, wear them with a sexy, shorter skirt or your jeans."
Stafford says an all-black ensemble featuring a black button-down with enhanced sleeves is "very modern, very fresh, and you can wear it to work".
Two warnings, however, Glassman says: "There's a fine line between going high style and looking like you're in the cast of The Pirates of Penzance," he notes, steering us away from styles that are overwrought. And, he adds, when it comes to dining, be very careful "so you don't get caught up in your bowl of soup".
AGENCE FRANCE-PRESSE