Cartoons inspire Macao's ice show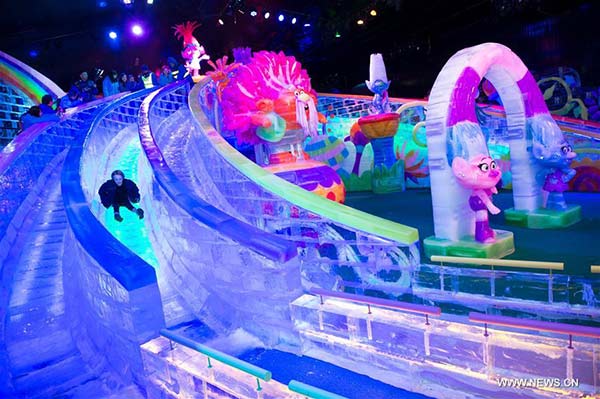 Youngsters enjoy the fun of chill at Macao's Kung Fu Panda Adventure Ice World. [Photo/Xinhua]
MACAO - Macao has opened a frozen indoor venue with cartoon ice sculptures for visitors to experience winter in the other seasons.
It may have been a chilly -8 C, but that did not cool the enthusiasm of visitors to the ice event that started in March.
The opening ceremony saw enthusiastic children performing kung fu under a cartoon image of Kung Fu Panda at Macao's Venetian, where the exhibition runs through July 9.
Supported by the tourism office of the government of the Macao Special Administrative Region, this is the fifth year when the ice sculpture exhibition is being held.
The event features thousands of blocks of multicolored ice carved into detailed sculptures by around 40 highly skilled craftspeople from the northeastern city of Harbin on the mainland.
An amazing 1.13 million kilograms of ice was used to create the works of frozen art.
This year's exhibition includes a host of colorful DreamWorks animation characters from the Kung Fu Panda films, Madagascar, Shrek, The Croods and Trolls.
In addition to the seven ice sculpture zones, new additions including themed games and savory snacks, as well as character meet-and-greets make this year's Ice World an experience that cannot be missed, the organizer say.
"We work hard to bring our visitors of all ages a wide variety of exciting and diverse entertainment options here, and this year's Kung Fu Panda Adventure Ice World with the DreamWorks All-Stars represents one of the biggest family events in Macao," says Dave Horton, an organizer of the event.
Bai Wei, general manager of a sculpture company from Harbin, says: "In creating these ice sculptures we used approximately 6,000 ice blocks, equivalent to 1,250 tons, which required 300 hours of crafting to complete."