Poll highlights top road trips for Chinese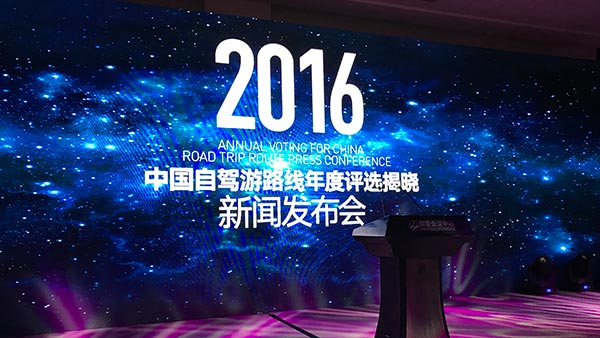 In Beijing, the 2016 Voting for China Road Trip Route recently revealed the winners of 36 domestic and 12 overseas routes. [Photo provided to China Daily]
The 2016 voting for top China Road Trip Route produced 36 winning domestic routes and 12 overseas routes, categorized in different themes including cuisine, leisure and photography.
A panel of judges made 72 nominations from more than domestic 3,000 routes designed by institutions such as tourism bureaus and road-trip associations. After that, a three-month online vote finally decided the winners.
Most of the domestic routes are based in provinces that are popular for road trips such as Sichuan, Guizhou, Yunnan and Fujian. The most popular overseas destination for a road trip is Los Angeles.
Tourists can explore the picturesque views of southern Xinjiang Uygur autonomous region, travel with their kids on islands in Zhoushan, Zhejiang province, or simply have a bite of delicious food in Wuhan, Hubei province.
Shanghai iDriver Culture and Media Corporation started the campaign in 2012, aiming to offer a variety of choices for Chinese road trip fans and enhance their self-driving experience.
Related:
Tourism makes Mohe county China's true north in winter