Where tourism truly is a class act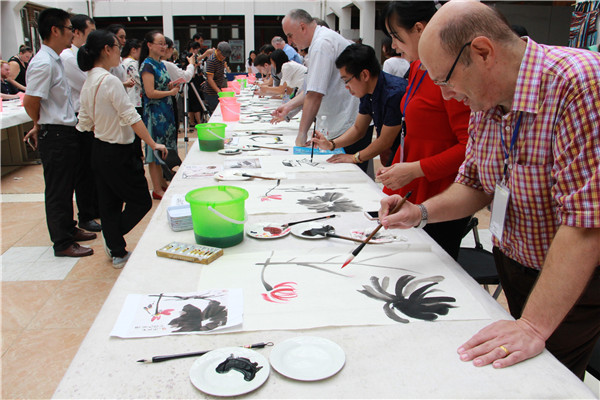 Expats living in Guilin take a painting class at Guilin Tourism University. [Photo by Huang Yun/China Daily]
Guilin's natural travel appeal makes it a natural host to one of the country's leading tourism-education institutions.
Guilin Tourism University's graduates get dual degrees from the school in the Guangxi Zhuang autonomous region's Yangshuo county and the Swiss Ecole hoteliere de Lausanne, which claims to be the world's first hospitality institution of higher learning.
It also cooperates with 22 other universities and serves as an education base for the United Nations World Tourism Organization. Majors include tourism management, tour guiding, hotel supervision and conference design.
The university, which opened in Yangshou's Yanshan town in 1985 and today enrolls 10,300 full-time students, has adapted to the times.
It introduced leisure tourism as a major in 2008, and began training high-speed rail attendants, who intern on trains, in 2011. The university hosts a simulated waiting hall and several actual carriages.
Flights attendants also study in a comparable area that includes part of an actual plane's cabin.
Twelve of the university's 31 staff members are from such foreign countries as the Philippines, New Zealand, the United States and Japan.
The school trains over 100 international students from neighboring nations, including Cambodia, Myanmar, Vietnam, India, the Philippines, Malaysia and Brunei.
"Many countries look to China for tourism training since the industry is rapidly developing here," pro-chancellor Lin Yejiang says.
Guilin Tourism University also offers courses in English, French, Korean, Japanese, German, Thai and Spanish.
"We seek to balance traditional local culture with modern international tourism development," says chairwoman of the board of trustees, Lin Na.
The school's Guangxi Ethnic Symphony serves as a unique approach to this ethos.
The orchestra was founded by professor Zhao Zejiang, who spent three decades trekking through isolated mountain communities to collect the 228 ethnic instruments that students play to stage contemporary-fusion concerts.
Zhao's goal is "to create music that paints local landscapes using sound".
The school also hosts a handicraft department, where students learn jade carving, jewelry making and-in a modern twist-multimedia design. It also hosts an exhibition room with items from traditional life and a stage for practicing the local nuo dance.
Students at the hospitality management school live in the hotel they run.
They work in the cafe, a cleaning-demonstration area and the banquet hall, mastering not only the basics but also such details as folding napkins into hearts.
Such minutiae show Guilin Tourism University is, indeed, in a class of its own.