More than Antarctic - A fantastic journey
The Antarctic is a must-see on many people's "bucket list". In today's travel feature, Chinese traveler Wang Xiaolong recalls the region's awe-inspiring beauty with stunning photos taken by people who were on the trip with him. The following article is a translation of an original story written by Wang in Chinese. Take a look.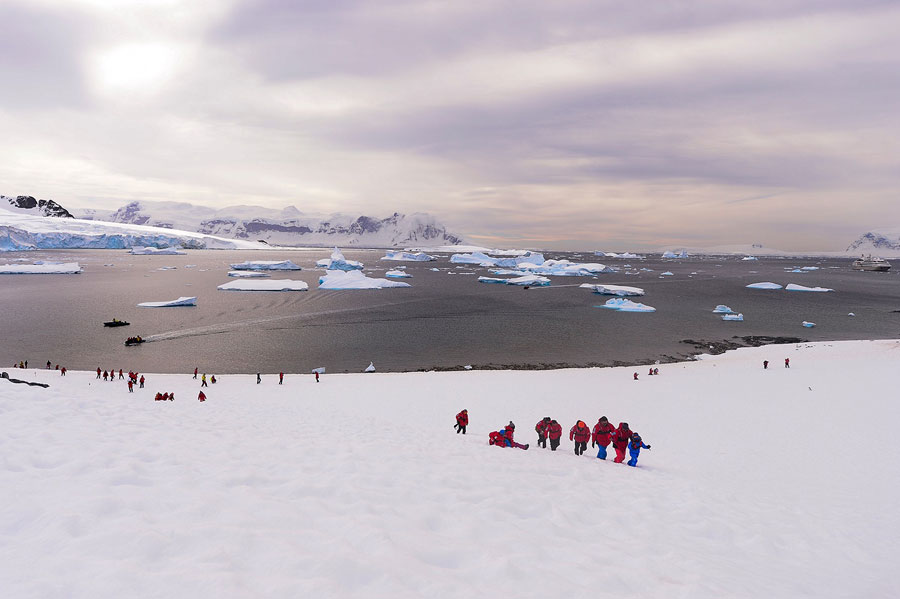 People explore the Antarctic Peninsula. [Photo by Huang Guowei/provided to chinadaily.com.cn]
There are a thousand Antarctics in a thousand people's eyes. Icebergs, sea, penguins, seals and a variety of wildlife living in a world of purity and peace... But the southernmost paradise, when you finally land on it, simply dwarfs anything you imagined.
The stunning natural and ecological beauty, together with the snowy land and glaciers that came into being over millions of years, leaves you with a feeling of humility and awe like a drop in a bucket.
After flying some 20,000 kilometers, covering over half the circumference of the earth (40,000 km), we finally landed in the world's southernmost city, Ushuaia, where we boarded a cruise ship and began our fantastic journey to the Antarctic.