Visit a park and travel back in time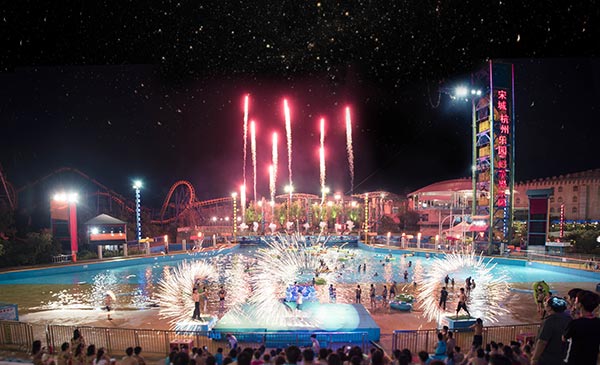 Tourists enjoy a fireworks show in a water park in Songcheng Resort in Xianghu Lake, Hangzhou, Zhejiang province. [Photo by Xu Lin/China Daily]
It's more like a wonderful time-travel experience to the Song Dynasty (960-1279).
You are standing in a bustling street with stores such as a blacksmith's shop to explore. Performers dressed in traditional costumes perform and interact with visitors.
You are at Songcheng Resort in Xianghu Lake, Hangzhou, in Zhejiang province. It is about 20 kilometers from the city's landmark scenic area West Lake.
Headquartered in Hangzhou, the Songcheng Group has similar Songcheng resorts in Hangzhou's downtown and other Chinese cities.
Near Songcheng Resort in Xianghu Lake, the group has three other parks-Hangzhou Paradise, Langlanglang Water Park and Crazy Appleland-all adjoining each other.
"You come here not just for one theme park. The four parks offer a wide choice, an amusement park experience, either cultural or thrilling, including land and water facilities," says Zheng Jiejun, the manger of the planning department, Songcheng Resort in Xianghu Lake.
Tourists can buy a through ticket to the parks, or travel agencies offer a popular three-day itinerary.