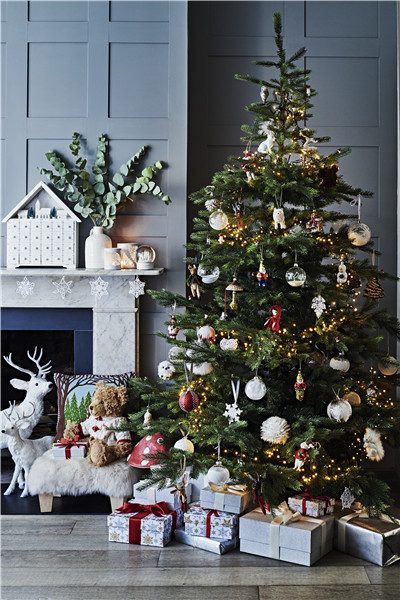 A Harrods store's display of Christmas gifts and decorations.  [Photo provided to China Daily]
For the Chinese who visit London, Harrods is a must-see, whether for shopping or leisure.
And China is Harrods' No 1 overseas market.
So it is no surprise that Michael Ward, managing director of the luxury department store, was recently in Beijing to promote its Christmas offerings for the upcoming festive season.
This year the store will deliver Christmas gifts and decorations to customers in China on themes like A Winter's Tale, Cosy, All That Glitters, Pop, Vintage and Country House, to enable them to celebrate the festive season in different ways.
Meanwhile, the Harrods store in London launched a collaboration with Burberry, creating a window display that features a fairy tale about the adventures of two children.
The window display also features exclusive products created by Burberry for Harrods, including food, fragrances and accessories, as well as menswear, womenswear and children's wear.
Speaking about the idea of adding Chinese touches to its store, Ward says the store will instead focus on offering an experience that is quintessential to Harrods.
"If you want Chinese touches, you can find them here (in China). They (Chinese customers) come here because they want to find the quintessential gift that reminds them of Harrods. People want memories of where they were at that point of time."
The last 10 years have seen a strong growth in the number of Chinese customers at the store, especially independent travelers, says Ward.
The Brexit has also seen a huge influx of Chinese customers into the store. Harrods' sales on the day after the Brexit vote almost doubled, he says.
"The sales went through the roof. Chinese shoppers are very sharp when it comes to prices. As soon as we see a devaluation of the pound, we see the number of Chinese shoppers rise significantly."
To cater to Chinese customers, the store now offers a range of Asian food choices like dim sum and Asian fusion cuisine. It also has payment methods like Union Pay and Alipay.
While there have been murmurs that Harrods is going to open in China, Ward says the store doesn't have such plans at the moment as he wants to ensure the authenticity of the store brand.
"There is only one Harrods. The idea of one Harrods is important. We have seen other department stores try, and see a sad reflection of what the brand is. We want to give you a 100 percent experience of Harrods. Unless we can do that, we are not going to open."