Finding the best way to Qiandao Lake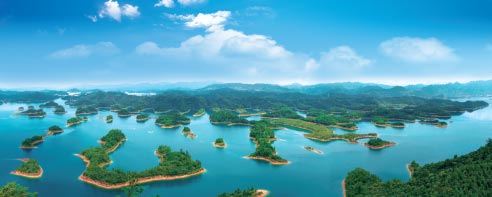 An archipelago of several isles forms the Chinese character for "public". [Photo by Huang Shanjian/Qiu Guoqiang/China Daily]
How do you approach Qiandao Lake? Let me count the ways.
If you were a bird, you could fly to every one of the 1,078 islands.
Actually you can descend on more than 2,000 of them because the small isles with a few rocks and plants are not counted as islands.
That's why Canada's Thousand Islands nominally has 1,864 islands but using the same definition of "island" Qiandao (which literally means thousand islands) comes out ahead.
You can also approximate a bird's-eye view by taking a helicopter or glider, but you may not parachute to every one of the isles.
If you are a first-time tourist, you will probably take a boat tour, which will take you to a few of the most popular destinations.
Meifengguan has the highest peak, which will enable you to view an archipelago of several isles that seem to form the Chinese character for "public", gong. No wonder the half-hearted attempt to privatize some of the islands in the 1990s did not go anywhere.
Longshan Island is another vista point and there is a bell tower at the peak accessible by climbing 500 steps.
Closer to the water level is a temple dedicated to Hai Rui (1514-1587), a local county magistrate who gained fame for his honesty and integrity.
The Moonlight Island is five islets strung together with bridges, with one theme for each of them.
It is a favorite location for creating mock adventures and later taking wedding photos after you have won the girl's heart with your show of courage.
If you want to touch the water or linger in the shade of an isle, kayaking is an ideal choice.
Lakers Kayaking Club offers training, racing and everything in between.
Brother Dong, the coach who grew up in a local village, will even share his knowledge of the place with you.
You can also camp on one of the atolls or swim in the waters.