From dry cave to spooky ice cave Ningwu delivers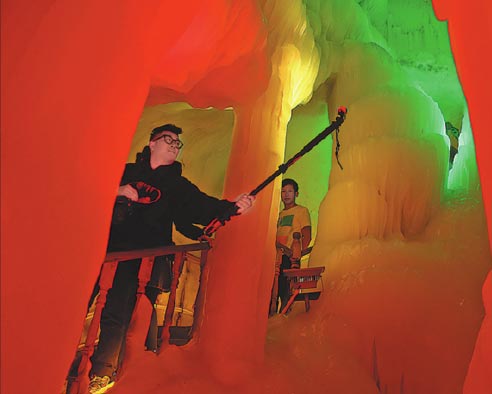 A visitor snaps a selfie in the depths of the ice cave in Ningwu, which is said to date to the fourth Ice Age about 3 million years ago. [Photo by Jiang Dong/China Daily]
Shanxi was fairly well known for its cave dwellers in the northern part of the province. No, no, these were not Ice Age Neanderthals or cave men, they were local farmers who made their homes by digging into the hard-packed loess soil for a place that is cool in the blazing summer and not so cold in the winter.
They were often made at the base of an exposed vertical edge of a high plain and had a semi-circular entrance, with decorations and furniture inside, comfortable and interesting.
However, speaking of the ice age, Shanxi has something more curious to deliver-a real ice cave with a more than 3-million-year history, dating back to the fourth Ice Age with stalactites and stalagmites and walls made of pure ice.
And it's freezing cold inside. It is on Luya Mountain in Ningwu county and is one of a few ice caves of its kind in the world, according to Chen Shicai, a researcher with the Chinese Academy of Sciences' Institute of Geographic Sciences and Natural Resources.
It gets plenty of visitors from around the world and once they pass the narrow entrance, they may need a heavy coat even during a hot summer because it's really chilly and cramped on the wet, steep, narrow staircase inside. But there are marvelous shapes in the ice that give visitors a fairytale world effect.
The steps descend three levels, but there are five in all with the other two not developed because of protection concerns, according to Zhang Cunhai, a Ningwu geologist who began research on the cave in 1996 and often accompanies Chinese Academy of Sciences scientists to the cave. Zhang notes that it is 100 meters deep, and about 2,300 meters above sea level.
But, that's not all. To make things even more curious, word has it that this ice cave has a "volcano" for a neighbor. How an ice cave can exist only half a kilometer from a live "volcano".
Scientists say the "volcano" is spontaneous combustion of coal, since Shanxi is rich in coal. One possible explanation is that the coal is not far beneath the surface while the ice cave is separated by layers of stone. But, so far no scientists have done any real research on it, Zhang says.
Meanwhile, every year the cave adds new ice and is not affected by its neighbor.
Related: