Egypt's tourism sector turns more attention to Chinese market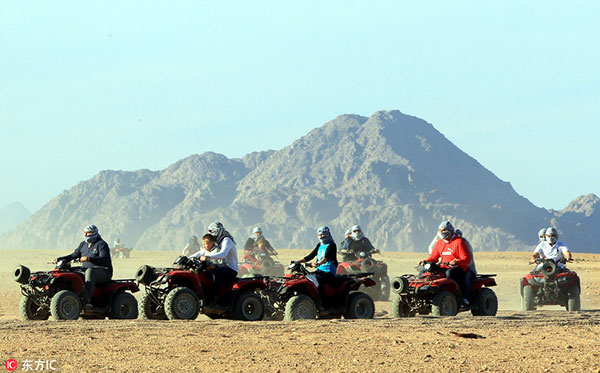 [Photo/IC]
Warm sunshine, peaceful beaches, colorful reefs and a cup of iced drink are always essentials for a heaven-like vocation, and also compose the reason why Sharm el-Sheikh is famous around the world.
However, as Egypt's most famous tourism city, Sharm el-Sheikh is still suffering from the sluggish income growth in the tourism sector, with hope on the coming season and a new market, China.
"We have gone through a very tough period because of the terrorism," Egyptian Tourism Minister Yehia Rashed told Xinhua in an exclusive interview recently, adding that the declining dollar income in tourism is the main reason of the current economic woes in his country.
Egypt has been suffering from the weak economy, especially in tourism, the second largest US dollar income sector, over the past few years due to political turmoil.
The situation further deteriorated due to the Russian plane crash in Sinai that killed over 200 in October last year and a tragic fall of an EgyptAir flight in May that killed all 66 people on board.
"Egypt is where the history started, and tourism is a very cultural embedded industry. We have one-third of the antiquities of the world and the largest beaches on the Mediterranean Sea and the Red Sea, which I believe is very attractive for the Chinese tourists," Rashed explained Egypt's interests in Chinese market.
"With the testimony of all people, including the Chinese living in Egypt, it is evident that Egypt is safe and a good choice for everyone for holidays," he added.
According to a report by the Egyptian statistics authority, the number of tourists coming to the country declined in May by 51.7 percent, comparing to the same month last year, with the main reason of the flight bans carried out by Russia, Britain and some other Western states after the plane accident last year.
At the same time, the number of Chinese visitors to Egypt increased from 65,000 to 135,000 in 2015, while the tourism ministry targets to multiply the number in 2016, given the growing bilateral relations the two countries.