Mobile devices have become an essential tool for many tourists, and especially for Chinese people and are now indispensable in the whole travel process, with people relying on them for bookings, finding travel information and sharing experiences, tourism industry insiders said.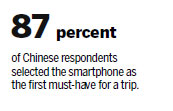 "As many as 87 percent of Chinese respondents selected the smartphone as the first must-have during a trip," said Zhu Ming, vice-president of strategic partnerships and account management at Tripadvisor China. "In China, it has become an irresistible trend that the availability of tourism products and services on mobile devices must be taken into account throughout the entire tourism service chain."
Zhu, who spoke during the first session of the Shanghai World Travel Fair, which opened on Thursday, said travelers were relying on their phones at every stage of their travel experience.
His comments were supported by a global survey conducted by Tripadvisor, the US-based company that operates the world's largest travel website. It said three in four of the tourists it deals with said their smartphones were the items they reach for first when traveling.
The Tripadvisor survey, which polled more than 44,000 tourists and tourism insiders in 32 countries and regions, also found that 12 percent of Chinese tourists booked their entire trip - including hotels and flights - on their mobile devices.
China's leading online tourism agency, Ctrip.com, said 70 percent of the orders it received in the first quarter the year were made through mobile channels.
"Moreover, more tourists are using their mobile devices to search websites to look for travel reviews when deciding on such things as which restaurant and accommodation to choose," Zhu, from Tripadvisor China, said.
Yu Xiaojiang, chief operating officer of the vacation business department at Ctrip.com, said mobile devices are helping travelers be more spontaneous.
"There's so much potential for travel service providers to send customers precise information through mobile platforms about catering, shopping and local activities at the destination."
Tourists are also increasingly relying on smartphones to deal with emergency situations while traveling, Yu said.