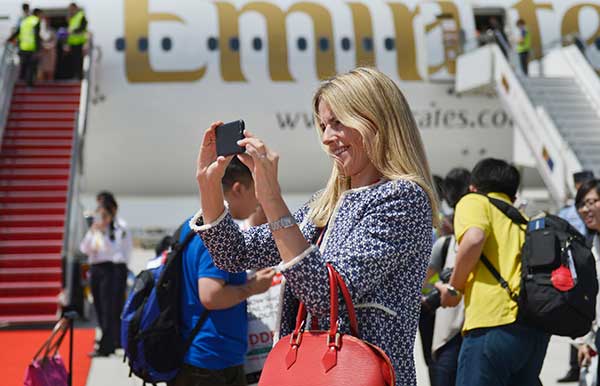 A foreign visitor takes photos after she got off a plane in Yinchuan, Ningxia Hui autonomous region, in May.[Photo by Zuo Mingyuan/For China Daily]
Amid China's effort to enhance its appeal as an international tourism destination, Chinese travel agencies are seeing new business opportunities in tourists from overseas.
Ctrip, China's leading online travel agency based in Shanghai, said inbound tourism has regained the attention of travel agencies, thanks to the 10.9 percent growth of foreign visits in the first quarter of 2016.
"The major business of Chinese travel agencies is serving Chinese tourists, despite the fact that China's modern tourism industry was bred by inbound visitors," said Zhu Lei, head of strategic cooperation for international business under Ctrip. "The same investment could generate more profit in outbound tourism or the domestic tourism sector. Providing services for overseas tourists requires more and yields less. So only few travel agencies offer such services."
Zhu said the inbound tourism sector accounts for less than 5 percent of Ctrip's business.
China CYTS Tours started its business in 1980 by running tours for foreign tourists in China. It shifted its focus around 1992 to the domestic market. Now in Beijing, the most popular city among foreign visitors, its inbound business accounts for about 10 percent.
Industry insiders said inbound tourism will soon be back on a fast track of development. The China National Tourism Administration expects more than 137 million visits paid to China in 2016, an increase of 2.5 percent over the previous year. International tourism revenue is forecast to increase by 6.5 percent, reaching $121 billion. That would be the second consecutive year of growth for China's inbound tourism market.