World unites on tourism at development conference
The First World Conference on Tourism for Development, which holds its opening ceremony in Beijing on Thursday, allows us to jointly shape the future of the world. Though China's tourism industry is behind in its development compared to other countries, the nation has emerged as a major destination for tourism and has maintained strong growth momentum.
Since 2012, China has led the world in overseas tourism consumption, at more than 13 percent of the annual global tourism revenue, according to the United Nations World Tourism Organization.
In 2015, the country recorded more than 4.1 billion domestic tourist trips, 120 million outbound visits and 130 million international tourist arrivals.
The tourism industry contributed more than 10.8 percent to China's GDP last year, and 10.2 percent of the jobs created in the country have come from the tourism sector.
For more than 30 years, tourism development in the country has focused on the building of scenic spots, tourist attractions, restaurants and hotels, which is often called the model of "scenic tourism".
However, under the current model, the construction and operation of tourist spots and attractions are separated and isolated from the rest of the society. What's inside the tourist spots and what's outside are like two different worlds.
It is imperative that we shift toward a new model of "holistic development of tourism destinations".
Under this model, the country is managed as a tourism destination with standardized functions and the tourism industry is placed at the heart of national development.
Through comprehensive and systemic upgrades in economic and social resources, this model would aim to achieve integrated development of resources and industries, promote joint participation and shared benefits involving all sectors of society, and leverage the role of tourism in pursuing balanced economic and social development.
To this end, transport, water, urban infrastructure and other resources will be more efficiently allocated across the nation to promote a balanced economic and social development through tourism.
A tourism coordination and management system covering the nation will be put in place to enhance comprehensive social management through tourism.
This "tourism+" concept will be promoted across the nation to cultivate new productive forces and competitive strengths by merging tourism with other industries.
Society will be mobilized to join in the development and share the benefits of nationwide tourism. Tourism will serve as a means to deliver a greater sense of gains and real benefits to the people.
To put this vision into reality, we have set the goal helping 12 to 14 million people overcome poverty, which accounts for 17 to 20 percent of China's overall target, through the development of tourism over the next five years.
The Chinese government places high importance on tourism development and cooperation with all countries, regions and international organizations.
We are ready to enhance practical cooperation and share development opportunities with our global partners toward the goal of greater tourism prosperity.
We will take a long view to tourism development and strive to expand the size of the international market.
Currently, 153 countries and regions are destinations to host outbound Chinese tourists, 121 of which have formally launched tourist group services. Over the next five years, Chinese tourists will make over 600 million trips overseas.
We will endeavor to realize the target of exchanging 20 million tourists with the Republic of Korea, 5 million tourists with the Untied States, 5 million tourists with Russia, 10 million tourists with Thailand and 10 million tourists with Indonesia, and further expand the size of the international tourism market.
Following the goals of ensuring the "safety, convenience and comfort" of tourists, we will continue to ease visa restrictions, improve border tourism policies and streamline entry and exit procedures to reduce the time and cost of travel.
We will also enhance communication with our partners, and strengthen and expand bilateral and multilateral exchanges.
We are willing to carry out tourism cooperation in the form of "tourism year" with more countries, enhance cooperation with international organizations, deeply engage in multilateral exchanges and cooperation and take an active part in international tourism affairs.
We will advance cooperation to drive international tourism investment and consumption. We are willing to create enabling conditions for companies to invest in overseas markets by holding international tourism fairs, tourism investment forums and tourism business roundtables.
For example, tourism cooperation under the Belt and Road Initiative will bring 150 million Chinese tourists and $200 billion in tourism consumption to participating countries over the next five years.
In the coming five years, China will launch a series of international cooperation projects on tourism, including the development and protection of tourism resources, consulting services for tourism planning and training of Chinese-speaking tour guides and management staff.
We will also provide 1,500 opportunities for training in China and give the best possible assistance to other developing countries to help them create jobs in the tourism sector, leverage tourism's role in improving people's lives and support the global campaign against poverty.
We will pay greater attention to resource and energy conservation and ecological protection, bear in mind that "sound natural environment is as important as mountains of gold and silver", promote the transition toward a more efficient model of tourism development, and preserve and utilize natural and cultural tourism resources in a more effective way.
The author is the chairman of the China National Tourism Administration.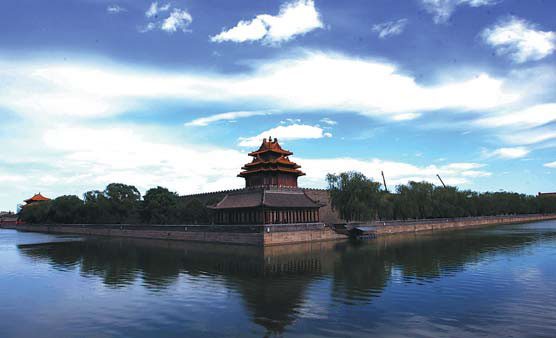 The Palace Museum is a leading Beijing tourist attraction. Wang Zhuangfei / China Daily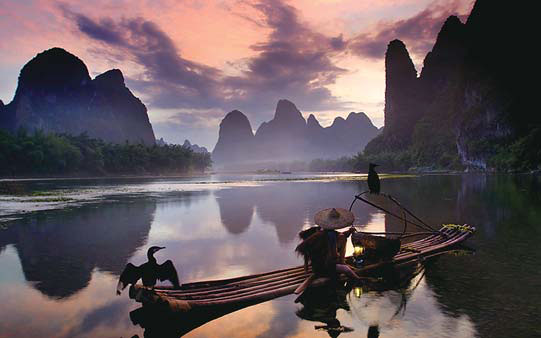 A fisherman works at night on Lijiang River in Guilin, Guangxi. Liu Xianglong / For China Daily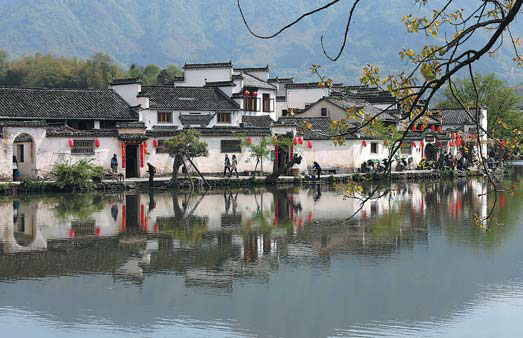 An ancient village in Anhui shows off its spring colors. Shi Guangde / For China Daily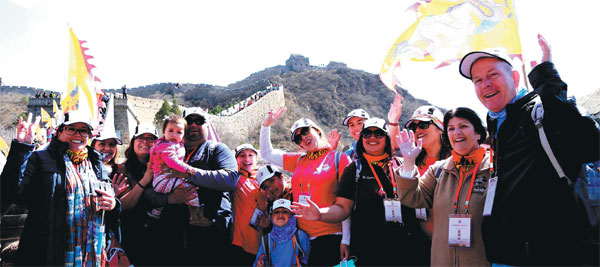 Foreign tourists enjoy a day on the Great Wall in Beijing. China, which is rich in diverse tourism resources, reported 130 million international tourist arrivals in 2015. Provided To China Daily
(China Daily 05/19/2016 page6)
Today's Top News
Editor's picks
Most Viewed