Tibet to build China's highest resort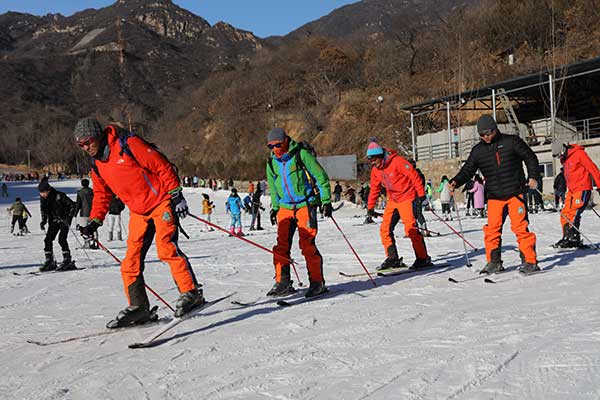 Tibetan skiers practice at Wanlong Ski Resort in Chongli, Hebei province, on Feb 17 during the Sohu Cup national ski mountaineering event.[Photo provided to China Daily]
China's highest ski resort has been earmarked for Lhasa, capital of the Tibet autonomous region, as part of its 13th Five-Year Plan (2016-20).
Surrounded by snow-capped mountains and glaciers, Tibet has many natural advantages for developing a skiing and mountaineering industry.
It has five mountains higher than 8,000 meters, more than 70 mountains higher than 7,000 meters, and no fewer than 1,000 mountains higher than 6,000 meters.
"With an average altitude of 4,500 meters above sea level, Tibet is rich in unique natural resources for ice and snow sports," said Nyima Tsering, deputy director of the region's sports bureau.
Born in Tibet's eastern Qamdo prefecture, 47-year-old Nyima has spent the past 15 years honing local mountaineering expertise, turning the region into a center of Himalayan mountaineering culture and promoting it as a paradise for outdoor sports.
He also serves as the head of the Tibet Mountaineering Guide School and has climbed to the top of Qomolangma, known as Mount Everest in the West, three times.
It is important to have a ski resort in the region's capital, Nyima said, because it will provide a stage for younger generations to learn the basics of winter sports before attempting the many natural snow-capped mountains in the area.
"Just as China is new to the winter sports game, Tibet also has a long way to go," said Nyima, adding that he hoped "to see the faces of Tibetan skiers" at the 2022 Winter Olympics.
A contract has been signed between the sports bureaus of Tibet and China's Heilongjiang province to aid in the training of Tibetan talent.
Azha, a coach with the team, said he believed there was a lot of potential for Tibetans to do well in winter sports.
He gave the example of Dorje, one of four Tibetan skiers who participated in the recent 2016 Sohu Cup national ski mountaineering event and came eighth in the men's event.
"These four Tibetan skiers were only trained for 90 days, and they did a good job. We can make it in the future," he added.