Tour guide savors the chance to meet visitors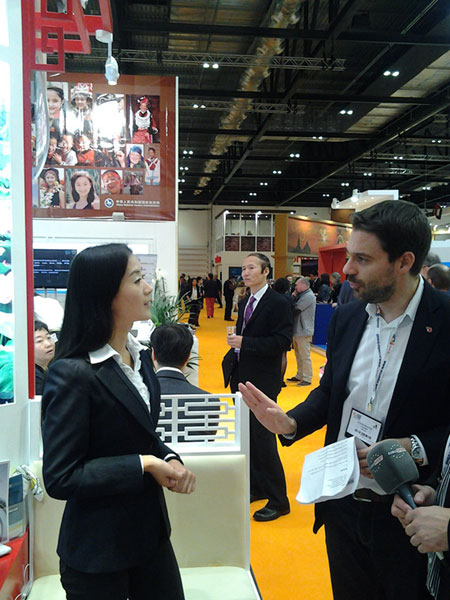 Pan Yimei being interviewed in London during a Chinese tourism promotion event. [Photo/China Daily]
An encounter with two foreign college students at Hangzhou city's West Lake sparked Pan Yimei's interest in becoming a tour guide.
"I was only 6 years old at the time," Pan says.
The curiosity of seeing foreigners spurred the young girl to go up and take a photo with them.
She has kept the photo to this day.
"I was since determined to learn English, become a tour guide and introduce Hangzhou to foreign guests," she says.
She chose tourism management as her bachelor's and master's degree programs to pursue her dreams.
In addition to professional skills, the tourism education has helped Pan whenever she meets setbacks.
Pan was stuck in London for 18 days with a group of tourists on their way home at the London Heathrow International Airport in April 2010, due to a volcanic eruption in Iceland.
"We didn't know when the airport would open, so I had to make extra arrangements for my guests," Pan says.
She immediately checked guests in economic hotels near the airport.