Palace Museum shuts the door on 'maverick' designs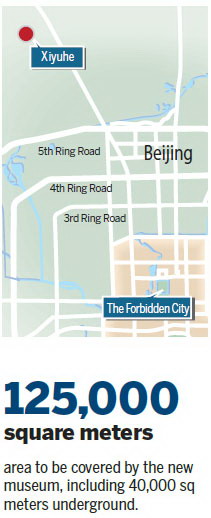 When work starts on the new northern area for Beijing's Palace Museum, also known as the Forbidden City, "maverick architecture" will not be allowed.
This was made clear on Thursday when the design blueprints from five candidates were unveiled.
The new museum, affiliated with the Forbidden City, will cover about 125,000 square meters-including 40,000 sq meters underground-along a river and reservoir in Shangzhuang in northwest Beijing. The location, Xiyuhe, is about 30 km from the Palace Museum.
The entire project, including auxiliary infrastructure and a public park, will occupy as much as 620,000 sq meters.
"The design of a museum is not a fashion that can be easily abandoned when a trend ends," said Shan Jixiang, director of the Palace Museum and a veteran architect. "Once built, it has to serve the public for a long time and live up to the test of history."
In recent years, China has seen a surge in architecture featuring exotic facades, attracting widespread comment that it has become a testing ground for foreign designers.
Shan said international bids were not sought for the new museum's construction because "such a trend will make every Chinese city look similar. Chinese architects deserve this precious chance to prove their talents."