Tourism sector in the suburbs set to benefit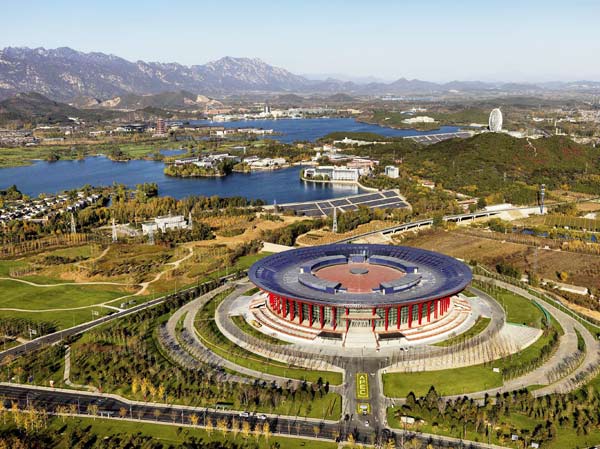 An aerial view of the newly built Yanqi Lake International Convention Center in Huairou district in October. [Photo/Xinhua]
In the eyes of village chief Ma Zhihui, the Asia-Pacific Economic Cooperation meeting, being hosted in Beijing from Nov 5 to 11, is not only an event that concerns world leaders. For him, it is also an opportunity for residents to broaden their horizons and a chance to attract more business opportunities and tourism to the village's remote location in the capital's Huairou district.
"Thanks to APEC, more people have become interested in Huairou," said Ma, Party chief of Suocao village.
"They will search online for Huairou's history, industries and entertainment spots, which gives our village more opportunity to be discovered by more people.
"Several groups have come to our village to explore cooperation in recent weeks," said the 53-year-old Huairou native, adding that some of those companies have come from as far as the Xinjiang Uygur autonomous region in the far west of China.
The environment and infrastructure of the district have also benefited from the APEC meeting.
"The district's development can be accelerated by a decade thanks to investments for the international event," Ma said.
It has been working to set up an industry chain that includes sturgeon farming, fishing competitions and farm-themed tourism.
The village has eight hectares devoted to fishing competitions that form one of five fishing bases of the China Recreational Angling Association. It has also built a 76-hectare forest park.