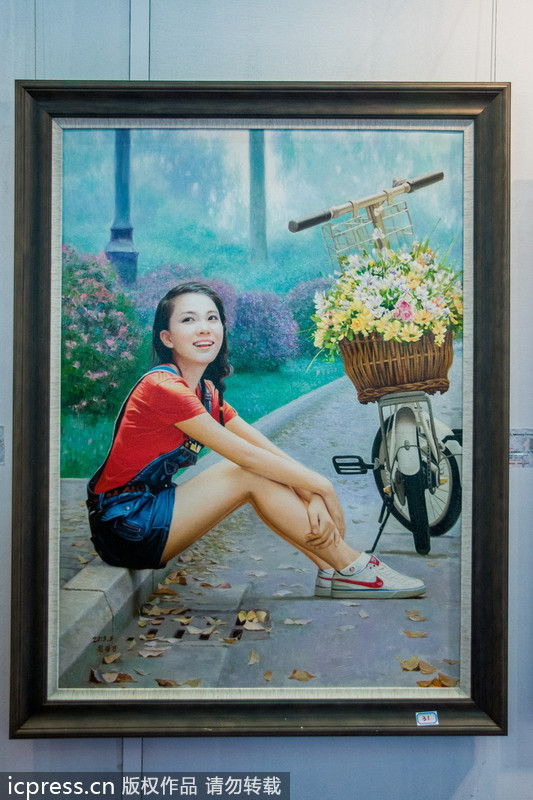 A painting from DPRK is currently on display at the 2013 Art Shenzhen event in Shenzhen, Guangdong province, December 13, 2013. [Photo/icpress]
Juveniu Da Silva, 58, is from the United Kingdom. The former architect now works for a law firm in Central London. He visited the DPRK in April.
I have always wanted to visit the DPRK. That part of the world has fascinated me since I was very young. But since the two Koreas were separated after World War II, I had no idea how to get there. I would watch the news on TV and be curious. In November, when I was eating lunch at a restaurant in New York, it occurred to me that I should go to North Korea. Then I looked on the Internet for information about getting a visa.
My online search led me to an agency in Sweden and to Explore North Korea (based in Dandong, Liaoning province). I wrote e-mails to both but when I didn't receive a reply I contacted North Korea's embassy in London. Officials there told me that visas aren't issued to individuals per se, and that I would need to seek one either through a travel agency or plan to go as part of a group of people.
So I sent another e-mail to Explore North Korea. Their costs and itinerary were the best options for me. I received an e-mail from the agency with a travel plan the following day. I was told by the agency that I would need a double-entry visa to China as the best way to get to the DPRK was through China, and that I would need to return to China after the visit. After I gave the agency all the documents needed for my visa applications, I was asked to make half the payment in advance because sometimes people booked trips but never showed up, forcing the agency to pay the visa fees. However, I was told that if I booked the flight from Beijing to Dandong and sent the agency a copy of my booking, I wouldn't need to make half the payment in advance. That was it. I booked my flights.
I knew before I got there that it wasn't like they show it on TV here (in London). You know the media portrays the DPRK as the last place on earth you would ever want to go. That is what we hear here all the time. Ahead of my trip some people asked me, "North Korea? What are you going to do there?" Those people only believe what they are told.