Travel passes to DPRK territory now available within 24 hours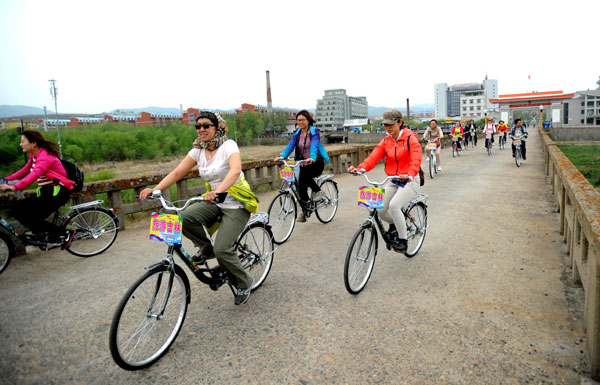 The first group of 35 Chinese cyclists enter the Democratic People's Republic of Korea via Tumen port in Jilin on Friday, after Tumen opened a one-day tour taking visitors to the DPRK. During the six-hour tour, the cyclists visited the Nanyo railway station and a statue of Kim Il-sung. [Photo/Xinhua]
Tumen in Jilin province has simplified the procedures for tours to the Democratic People's Republic of Korea, and applicants can get their passes ready in as little as a day.
With passports and ID cards, tourists can get a one-day pass to the country within 24 hours. For motorists, driver's licenses also are required. Currently, the service is only available via travel agencies for group tourists.
Previously, the procedure for getting a pass from China's border cities in Jilin and Liaoning provinces to the DPRK usually took two days. Tourists had to apply for the pass through travel agencies one week in advance.
The first bicycle tour group from China to the DPRK visited on Friday. The three-hour tour went from Tumen to Nanyo in the DPRK.
The group of 35 Chinese travelers visited the railway station of Nanyo and a statue of Kim Il-sung during their bike trip. They tasted local snacks on the commercial street in Nanyo.
Tumen is an important arterial railway line for eastern Jilin province, with trains destined for Jilin city, Changchun, Shenyang and Beijing. Tumen is also the biggest border city in Jilin province. The Tumen River Bridge, administered by China and the DPRK, is at the border of the two countries.
The number of Chinese tourists traveling to the DPRK has recently been rising quickly. A tourist train route from Tumen to Chilbo Mountain in the DPRK was resumed on April 30. The route had been operated for a year in 2012 and was suspended for renovation.
There were more than 2,000 tourists in 2012, and the number is estimated to rise to 7,000 this year, according to Zhang Weidong, who manages the agency responsible for the train that runs once a week during peak tourism seasons.
The train trip lasts three days and four nights and costs about 1,900 yuan ($310).
"Chinese motorists are expected to be able to take road trips from Dandong, a port city in Liaoning, in June," said You Zejun, director of the tourism bureau of Dandong.
"The DPRK is a mysterious destination to many tourists. Simplifying the procedures for the pass and more transportation options will definitely attract more people. If the country opened its door to individual travelers, it would be great," said Zhou Yuan, a travel magazine photographer in Beijing.
People have been allowed to cross the border and travel within 70 km of the border on road trips departing from Hunchun in Jilin since 2011, and the distance may grow to 200 km for drivers leaving from Dandong, Beijing Times reported.
However, all routes will be closely monitored and approved by local authorities, and travel across the whole country is not likely to be allowed.