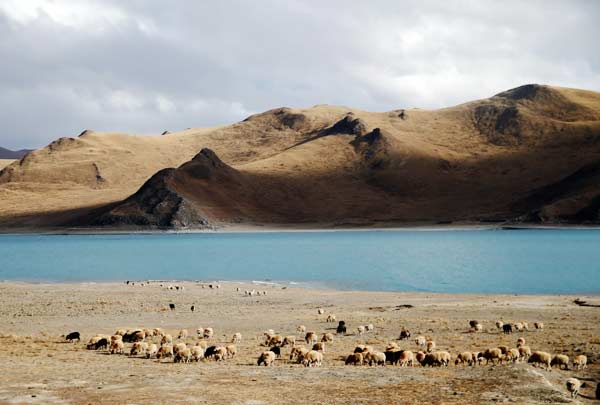 Sheep graze on the grassland by the Yamdrok Co (Lake). [Photo by Zhang Hao / for China Daily]
In Xigaze, prepare to be dazed.
There is the sun, strong and heating up the wintry land to more than 10 C during the day. There is also the lack of oxygen. Bring an oxygen bag if you're driving from Lhasa, as it's a climb of a very formidable few hundred meters in altitude. Above all, the scenery is beautiful for a first-timer.
If you're taking the longer, winding road up (the other option is the slightly less eventful 318 State Highway), the Yamdrok Co (Lake) will be the first sight that arrests you.
It translates into "jade-like": The paper-fan-shaped stretch of 130 kilometers of water can assume colors from azure to steel, depending on the season. At the end of February, it's between bondi blue and blue gray.
It's the quiet time of the year: Grazing time is over, wild birds have departed and islets look bleak. But the "holy lake" beckons you to stay for the still, calming openness.
You can, and not just in a makeshift camp. Guesthouses equipped with electric heaters have sprouted up in the nearby Zhamalong village over the past year, offering a Tibetan-style stayover at a very reasonable price - 20 yuan ($3.20) per bed. Just follow the signs along the way.
Or if you resist the temptation, serene Gyangze county four hours away is good for a pit stop.
There, Pala Manor is a must-see.
The manor is the most intact among 37 that belonged to the noble Pala family, who had 3,000 serfs and 14,900 head of cattle in the late 19th century.
It's a rare glimpse into the days of serfdom. As displayed articles from before 1959 show, the nobles were living on the sunlit, resplendent upper third floor, drinking Hennessy, clutching LV bags, smoking Marlboros and wearing coats of mouse skin.