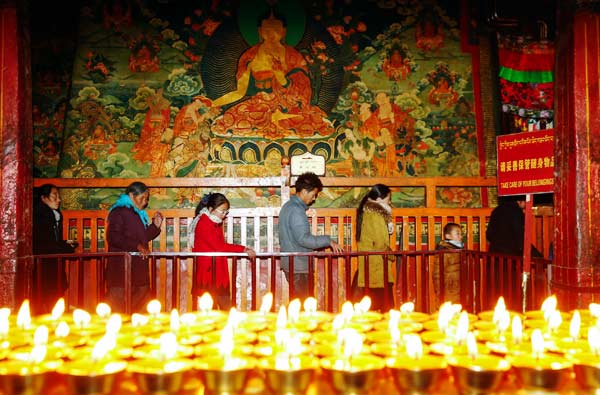 Worshippers visit and pray at the Jokhang Temple in Lhasa, capital of the Tibet autonomous region, on Losar Eve. [Photo by Zhang Hao / for China Daily]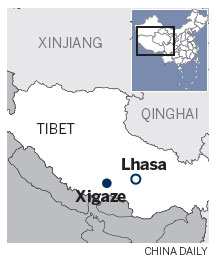 In Lhasa, ringing in Losar, the Tibetan New Year celebration, has much to recommend it. Not only can visitors witness important cultural and spiritual rituals but also they can enjoy the city's scenic spots free from the throngs of tourists. Sun Ye soaks in the atmosphere.
Believe it or not, visiting Tibet in winter is actually very pleasant. Yes, the air is a little thinner and you'll have to wear layers of clothes in case the night chill gets to you. After all, it's 3,600meters above sea level in Lhasa.
But here are two huge perks to visiting during the winter season: There will be no crowds to tackle (and there will be hefty discounts at hotels, and vacancies at otherwise impossible-to-book locations, like entry to the Potala Palace), and there is the joyous week long celebration that is Tibetan New Year, known locally as Losar.
It's recommended that you keep to Lhasa, the capital city of the autonomous region, where the biggest celebrations take place. You will love the city flooded by festivity and spirituality.
This year, the year of the Male Wooden Horse on the Tibetan calendar, began on March 2. But the fun started days before Losar officially arrived. Make sure you get there at least two days in advance, so that you can enjoy the night of guthuk (a noodle soup in Tibetan cuisine) and have your fortune told.
But first, a little holiday shopping. It's natural to desperately want a holiday outfit that is traditional Tibetan attire. The three-or four-piece long-sleeved dresses are bright and auspiciously patterned-usually featuring the eight Tibetan Buddhist symbols. The best ones are from 777, the city's biggest retailer, and are made of silk.
Skip the open-collars - they're out. Try one that comes with a petticoat. It's fashionable. If you're a single woman, don't put on the apron, however. It's only for married women, who also wear their hair in tied-up braids.