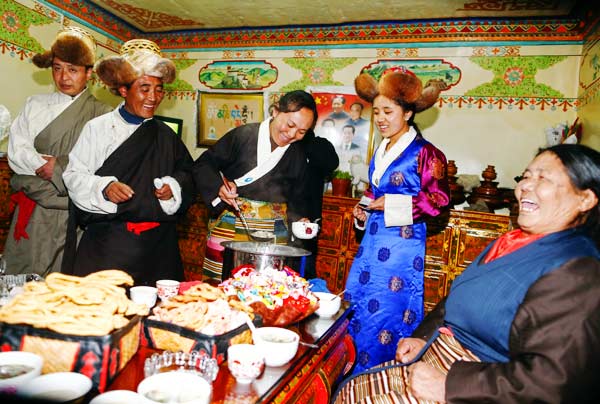 Members of a local family enjoy the night of guthuk at home in Lhasa. [Photo by Zhang Hao / for China Daily]
New Year gifts and treats are everywhere. And Barkhor Supermarket is the place to find the mall.
Barkhor Street, or the ritual path that circles the Jokhang Temple at the center of the city, was refurbished late last year. Some 3,000 vendors of clothes, artifacts and other local products are moved to the nearby supermarket to make room for the thousands of believers who walk, kowtow and worship clockwise, whose turns have to come in odd numbers, around the temple every day.
While in the supermarket, follow the hurrying locals.
Popular goods include fried crispy dough in various shapes that serve as both offerings and snacks, and good-omen red boxes that hold barley, wheat, and yak-butter sculptures and will herald harvests in the New Year. There are window clothes that are mostly white and decorated with the colors of the "five elements" - metal, wood, water, fire and earth - and, of course, the ingredients of guthuk that include ginseng fruit, peas and barley.
These seasonings will go into the guthuk noodle soup with the balled-up dough. If you manage to visit one of the local households, a pot is sure to be steaming with the filling broth.
Fortunes are revealed when families gather to put the ball in each other's bowls of guthuk soup. If the stuffing is ginseng fruit, the person will enjoy a year that is all happy and good; if it's wool, one is big-hearted and soft; if it's chili pepper, it says that the diner is mean and prone to sharp words. The worst thing to chew on is charcoal - it means the eater has a bad black heart.
The next day, Losar Eve, there are even heartier treats: As the city prepares for the final stages of stocking up and cleaning up, visitors can take advantage of an almost empty Potala Palace.