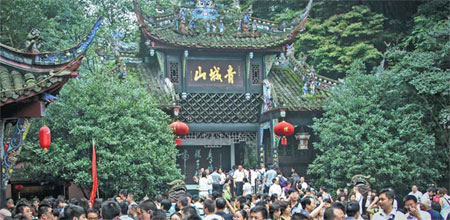 Qingcheng Mountain, located in Sichuan province China, is one of the most important Taoist mountains in China, and is host to many temples. Six Senses Qingcheng Mountain in China is set to open in 2014. Cheng Qianjun / for China Daily
What are the top accommodation and travel trends this year? Boutique hotel experts Mr & Mrs Smith have given their predictions.
Local life: Hotels are helping guests get to know the locals or at least get to grips with the local scene. Budapest boutique hotel Brody House champions the city's artistic energy, holding exhibitions, readings and other cultural events for guests.
Rooms are named after the local artists whose works decorate walls, staff abound with hot tips on what to do in the area and the hotel even has its own record label, Brody House Sounds.
Stay at Claska in Tokyo and you'll see the city's best-dressed canines (and owners) pop by for a pooch-pampering treatment at the doggy beauty salon downstairs. Claska also has a gallery, boutique and lively bar, as well as a series of arty events held on the hotel's rooftop terrace.
Beyond boutique bedrooms, there's a string of services promising instant immersion with the locals - Eat With, for example, which hooks up hungry visitors with hosts happy to cook dinner for guests in their own homes.
Sleep swamis: The best hotels have been offering guests access to personal chefs, personal trainers, and health and well-being gurus for years. Now some hotels are going the extra mile to ensure that guests even have a fabulous time while they're asleep.
Anantara Kihavah Villas in the Maldives has a slumber guru responsible for making sure that guests get a restful night. The slumber guru's bag of tricks includes soothing milk baths, relaxing massages and a pillow menu.
Alila Villas also takes sleep very seriously. Both Alila Villas Uluwatu and Alila Villas Soori have a pillow menu, a selection of essential oils and scented candles up their (pyjama) sleeve.
Seriously social: Like it? Tweet it. Seen it? Instagram it. The social-media savvy are here to stay and hotels are getting wise to marketing via mobile - so much so, in fact, that some have even been built specifically with social media in mind.