Life in the village is hard but warm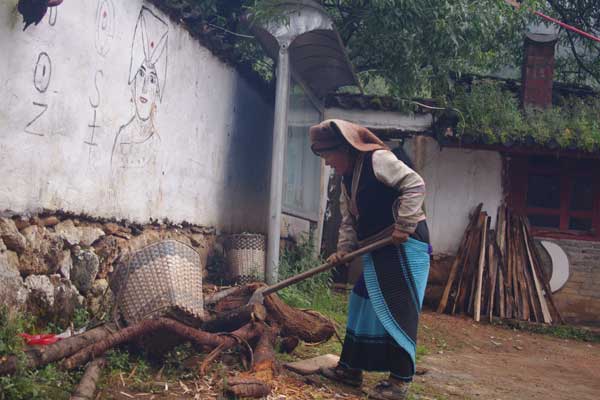 [Photo by Zhang Yue/China Daily]
I spent two nights in Boduoluo village trying to talk to the villagers about their life and thoughts, with a few other reporters and Oxfam staff. The first day was spent in the old village director Liu Zhengkun's house, and the second day in villager Liu Zhengwei's place with three other reporters.
It was my first time living in a village, with limited electricity in the evening, and completely no mobile signals.
Before visiting, Oxfam staff warned us about how rocky the road can be, and asked us to buy a pair of hiking boots before we came.
It was a long and slippery road indeed, especially after rain. And climbing a mountain with an altitude of 3,200 meters is so different from my hiking experiences in Beijing. I did not dare to walk too fast, as I could not catch my breath.
In the second evening, we had hotpot for dinner, and we were persuaded to have some white liquor, or baijiu. I took two shots. On my way back to Liu's home that night, which was located further up on the mountain, my heart pounded so crazily like it was going to jump out of my body. I was overcome with fear.
"It was very dangerous to climb the mountain after drinking baijiu," Yu Xiaogang said, adding that I should slow my steps down. "I did this last month, and I could hardly catch my breath when I was climbing."
I took a glance at Liu. He walked fast and vigorously, even after many shots of liquor. What's more, to make our journey easier, he carried our luggage, mine and the other reporters'.