Sidestepping the rush of modern life
Xiamei village has a rich past, but now it's fading into history, He Na and Hu Meidong report from Wuyi Mountain, Fujian province.
Wearing light blue clothes with small black flowers, her white and gray hair wrapped up in a bun, Zhu Ezai sits on a bamboo chair and stares at a small pile of Dahongpao tea on the table in front of her.
With quick, repeated movements, the 80-year-old busily picks out bad tea stalks, dust and yellow leaves. The room where Zhu works is in a two-story house built during the Ming Dynasty (1368-1644). Its gray walls are discolored by damp and are crumbling with age.
Zhu lives in Xiamei, a village at the foot of Wuyi Mountain Tourist Resort in Fujian province. Although it's only 8 kilometers from a well-known resort, the village has remained a secret and almost untouched by the modern world.
Several years ago, a daily shuttle bus operated between Wuyishan and Xiamei, but a dearth of regular passengers forced the closure of the service. Even taxi drivers are reluctant to take people out to the village because they have to return empty.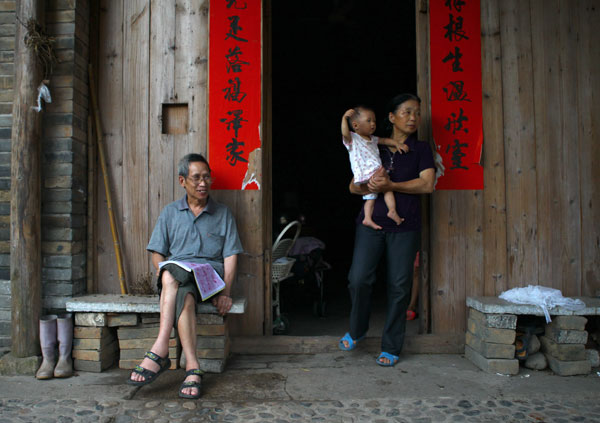 Liu Qishu, 63, and his wife have been living in Xiamei for 40 years.
The villagers are used to being ignored and they enjoy their quiet lives. Visitors see Xiamei as a rural refuge from the bustling cities of present-day China.
One's first impression of Xiamei is that it feels like an old water town, such as Zhouzhuang or Xitang in the Yangtze River Delta. A shallow river, the Meixi, flows through the village. Covered open-sided wooden walkways line the riverbanks and the town boasts pavilions, small stone bridges, archways and ancestral halls.
A rich history
Xiamei was a center of the tea trade during the Qing Dynasty (1644-1911) and, according to Zhu, the long bench - known locally as a "Bench of Beauty" - in one of the walkways was where wives sat and waited for their husbands to return after a day conducting business along the river.
The Meixi is only a half-meter deep now, but during the Qing Dynasty it had enough water to allow tea to be transported in small boats and on bamboo rafts. Xiamei was the first trading port to give merchants from landlocked Shanxi province the opportunity to export Wuyi rock tea. The village and its inhabitants grew rich on the trade.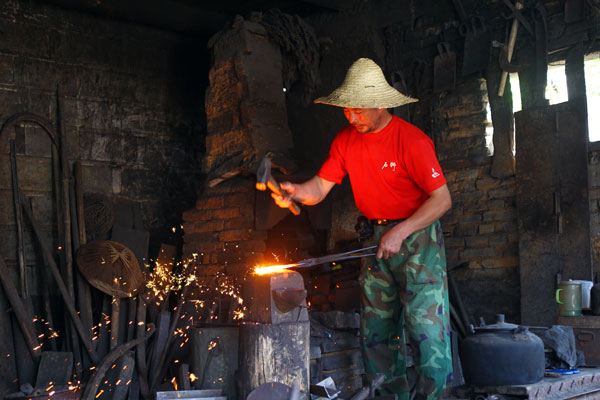 Yin Yantong, 52, is the only blacksmith in the Wuyishan area. He has been plying his trade for more than three decades.
The village has a history of more than 3,000 years and there are still more than 70 well-preserved buildings dating from the Ming and Qing dynasties.
The prosperous tea trade led to a population boom and the village expanded along both sides of the river, with many of the new houses doubling as storerooms.
However, the good times didn't last. The village's key role in river transport was replaced by five ports that the Qing Dynasty was forced to open to foreign traders in the wake of the first Opium War (1839-42).
There's very little business activity in Xiamei nowadays, just a few small grocery stores, some snack bars, a barbershop and a teahouse serve the 2,700 villagers.
Several old handicraft shops that have survived for more than a century are still open, but business declines year by year.