Airline news and deals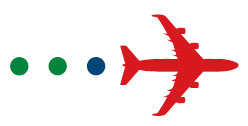 Air China will open daily roundtrip flights from Beijing to Wuhai, Inner Mongolia autonomous region on July 1, with special opening rates. The Boeing 737-900 plane takes off from Beijing at 6:25 am and arrives at Wuhai at 8:05 am. The return flights leaves Wuhai at 9:05 am and lands in Beijing at 10:45 am.
For summer vacations to Japan from now until July 17, the company has special offers from the Chinese cities of Beijing, Shanghai and Guangzhou to Tokyo, Osaka and Sendai that start from 1,600 yuan ($260) round trip.
www.airchina.com.cn.
China Southern Airline has just launched direct flights between Guangzhou and Moscow. They will leave for the Russian capital every Wednesday, Friday and Sunday. A roundtrip ticket from now until July 31 is on offer at 6,650 yuan.
www.csair.com/cn.