Airline news and deals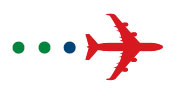 Cathay Pacific has announced a Guangzhou to Sydney special online offer that extends to June 30. Round-trip tickets start from 3,990 yuan ($649). Special offers are also available between Guangzhou and other Australian cities.
www.cathaypacific.com.
For mid-June journeys to Europe, Swiss Airlines offers a round-trip special that begins as low as 3,150 yuan. Tickets are available for flights between Beijing and Geneva, London or Zurich.
booking.swiss.com.
China Southern Airline is offering a special deal between Guangzhou and Osaka. For departures between June 11 and 15, round-trip economy class tickets are available from 2,560 yuan.
www.csair.com/cn.