Rebuilding Dujiangyan, Sichuan's tourist haven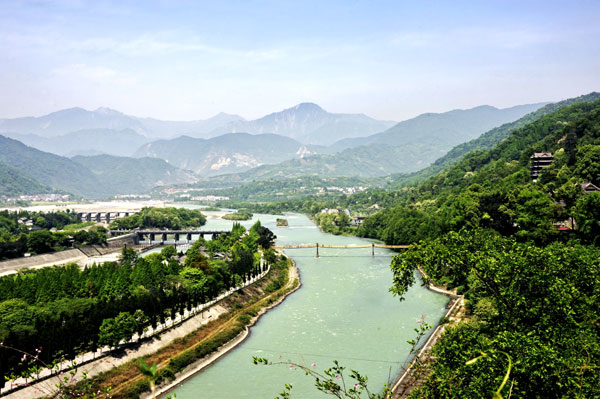 Dujiangyan takes on a new look after the quake's reconstruction. Provided to China Daily
Since the 2008 Wenchuan earthquake, Dujiangyan, a city in Sichuan province reliant on tourism, has focused on reconstructing some of its best scenery sites and better protecting the local environment, local officials say.
"Our city aims to build an internationally famous travel destination by upgrading the industry and maintaining a clean environment," says Yan Xiaoxia, deputy director of the Construction and Administration Committee of Dujiangyan International Tourism City.
The city is famous for the water conservancy project Dujiang Dam and Qingcheng Mountain, a well-known Taoism resort.
Designed by ancient Chinese engineer Li Bing and constructed in 256 BC, the Dujiang Dam has protected the provincial capital Chengdu from floods and droughts ever since.
The Erwang Temple that collapsed during the quake has been undergoing complete reconstruction since 2008, according to Yan.
Aside from the physical construction, Yan's office has sent more than 200 tourism employees for training in Shanghai, and a dozen managers to study tourism management.
"The goal is to promote the service quality of scenic sites in Dujiangyan to better cater for the needs of foreign travelers, especially those from Hong Kong, Macao and Southeast Asian countries," Yan says.
In addition, other departments have been working on a cleaner environment for Dujiangyan residents and travelers.
In the last five years, the city invested 1.9 billion yuan ($310 million) to build 33 water plants and shut down 12 factories with excessive production capacities, according to Sun Tao, director of the Dujiangyan environmental protection bureau.
Since the quake, Dujiangyan has built 15 sewage treatment plants to purify 85 percent of the city's waste water, according to Guo Wenbing, director of the city's water authority.
He says the city reserves about 6 million cubic meters of water that could supply Chengdu for four days in an emergency.
"By those means, we would like to create a clean and healthy city for travelers," Yan says.