Eyes on high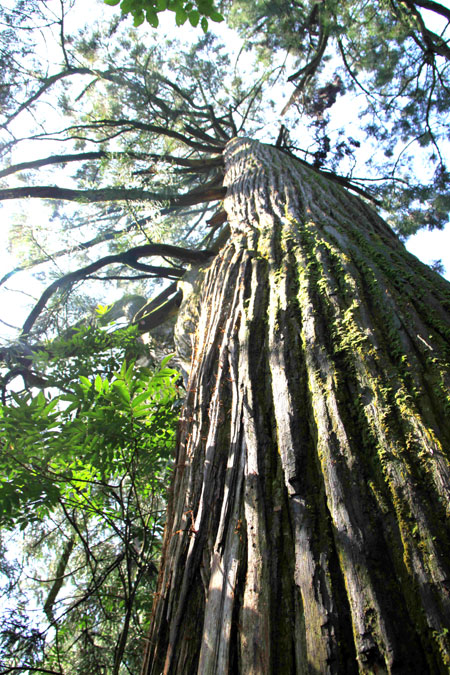 Tianmu Mountains are hailed as a "biodiversity treasure chest" and many trees are more than 1,000 years old. Photos Provided to China Daily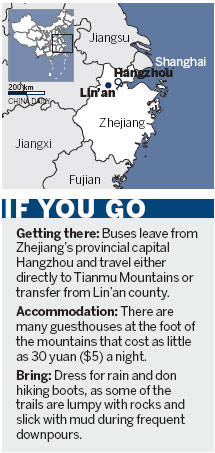 The natural world meets the divine on the Tianmu Mountains. Erik Nilsson scales the peaks.
They're the skies' eyes. Or so ancient Chinese believed.
The two lakes that crown the Tianmu Mountains' Great Celestial Immortal Peak to the east and Celestial Immortal Peak to the west have bestowed the range with its name, which translates as "Heaven's Eyes Mountains".
The lakes are manifestations of nature, while their revered status as portals from which divinity gazes is of human fantasy.
But the Tianmu range is a place where supernatural stories permeate natural splendors.
For instance, the peaks get their names because they're each said to be inhabited by a theological being.
Biologically speaking, they're home to more than 2,000 plant species, including massive ancient Japanese cedars and the world's last wild gingko forest. They're also the dwelling place of dozens of fauna varieties, including such rare beasts as snow leopards and black muntjacs.
Every crumple of Tianmu's topography features natural splendors and mysticisms manifested as fables.
The Eye-Washing Well, for instance, takes its name from a folktale in which Liang Dynasty (AD 502-557) Prince Xiao Tong regained his eyesight after splashing his face at the small mountainside pool.
The Red Pool is said to be where Eastern Han Dynasty (AD 25-220) hermit Zhang Daoling, founder of the Way of Celestial Masters Taoist sect, conjured his pills of immortality.
Many of Tianmu's geological contortions have been named after the legends they've spawned - including the Immortal Sawing Board, Treasured Sword Stone and Drooping Rainbow Stone Bridge, which takes its appellation from its location at the impact point of sunrays and waterfall aerosol.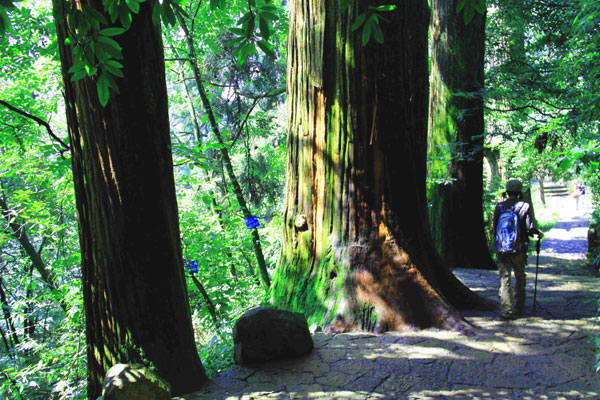 Tianmu Mountains' natural wonders make it popular among hikers.
Some, such as Lion Cliff and Lotus Hanging Upside Down Peak, get their names from their shapes.
Stories sired by Tianmu's natural wonders have occasionally led to their demise.
Take the case of the "King of the Trees", so named by Qing (1644-1911) Emperor Qianlong, after he measured its circumference with his jade belt.
The 27-meter-high tree fell victim to its own eminence, as pilgrims stripped its bark to conjure cure-alls, killing the millennia-old tree about 50 years ago.
The tree had already been named the "Tree of a Thousand Years" during the Song Dynasty (AD 420-479). It still stands, but as a corpse.
Many of Tianmu's trees are more than 1,000 years old, 2 meters in diameter and 40 meters high. Old, thick, tall trees create trellises fleeced with moss, strangled by vines, plumed with ferns and crested by a verdant canopy.
However, many of these botanical marvels were bombed to splinters during the War of Resistance against Japanese Aggression (1937-45).
Despite that onslaught, the Tianmu mountains' botanical and zoological marvels remain some of the world's best preserved.
Scientists hail it as a "biodiversity treasure chest". Many species are particular to the range. Consequently, 37 plants and 169 insects bear "Tianmu" in their names.
Part of the reason is that Tianmu is where latitude and altitude intersect to bring out the best of each other in terms of biodiversity. Lower latitudes and varied altitudes both expand biodiversity, as different species adapt to different tiers of the mountains.
Today, Tianmu's genetic and topographic kaleidoscopes offer divine sights and make its natural splendors magical in a modern sense - different but no less enchanting than when its lakes were considered God's eyes.