Man of the mountain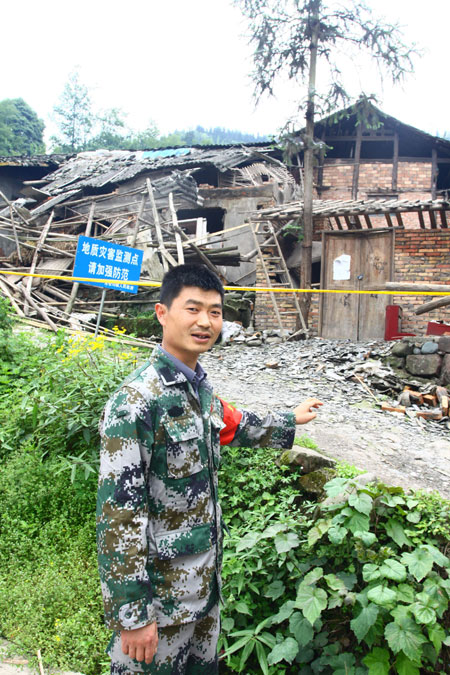 After patrolling the mountain, Luo Junhong returns to his village to feed the pigs and chickens of fellow villagers after the recent earthquake in Ya'an, Sichuan province. [Photo by Deng Zhangyu/China Daily]
Surveyor Luo Junhong risks his life on a daily basis to check for potential landslides on the sloops that surround his village. Deng Zhangyu reports from Ya'an, Sichuan.
Every day Luo Junhong patrols the mountain that rises up over his village, checking for potential geological disasters. It is a job that regularly sees the surveyor risk his life, but one he is happy to do to ensure the safety of his fellow villagers.
For the past nine years, Luo has been leaving his home in Jinghe village at 6 am to begin his ascent of the mountain. He walks about 5 km to the mountaintop and returns home at about 9 am. He repeats the same journey at least three times a day - morning, noon and evening.
He patrols the mountain all year-round, even during the Spring Festival.
"I have to observe carefully. If I find some cracks, I usually mark them and set up a pole. The next day I check it again to make sure there won't be a chance of landslides," says the experienced surveyor.
If it rains heavily, even if it's late at night, Luo will run to the mountain to check high-risk spots he marked earlier. If there is any sign of disaster, Luo will use a siren to alert the villagers at the foot of the hill.
His equipment on a rainy night includes a torch, a raincoat, a helmet, rain boots and a siren.
Jinghe village sits in a mountainous area in Yingjing county of Ya'an city in Sichuan province, where geological hazards such as quakes and landslides are common.
The magnitude-7 earthquake on April 20 reduced Luo's village to ruins. Most houses were damaged and are too dangerous to live in. Luo and his fellow villagers were evacuated to a temporary settlement not far from the mountain.
"Besides my daily patrol, now I have to help feed the pigs and chickens belonging to my fellow villagers. It's dangerous for villagers to feed the poultry," says 38-year-old Luo.
There were 25 families of 88 people evacuated from the mountain, leaving more than 20 pigs and some chickens in ramshackle houses.