China's nature reserves exceed global average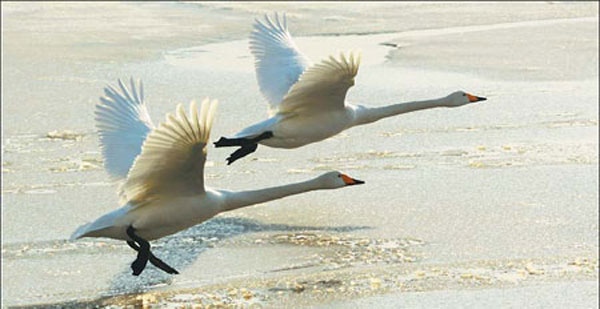 Swans and tens of thousands of rare migrant birds spend the winter in Poyang Lake Nature Reserve in Yongxiu county, Jiangxi province. China has established 286 national nature reserves in the past 20 years. [Photo by Duan Changzheng/China Daily]
The size of nature reserves in China reached almost 15 percent of the country's total land area by the end of 2012, exceeding the global average of 12 percent.
Li Ganjie, vice-minister of environmental protection, announced the figure at a celebration of the 2013 International Day for Biological Diversity on Wednesday.
The figure has grown from 6.9 percent in 1993 to 14.9 percent today. The number of national-level nature reserves has increased from 77 to 363, marking the achievements the Chinese government has made to promote biodiversity since the country signed the United Nations Convention on Biological Diversity 20 years ago.
"Setting up nature reserves is seen as the core measure in biodiversity conservation to prevent the current loss of species and habitats," said Zhang Shigang, country coordinator of the United Nations Environment Program China.
That's why the theme of the 2013 International Day for Biodiversity in China is "biodiversity and nature reserves", while the international theme is "water and biodiversity".
"The United Nations Millennium Ecosystem Assessment indicates that in the past 50 years, 60 percent of the world's ecosystems have been degraded. Loss of biodiversity reduces our food, medicine, clean air and water. The ecosystem that human beings rely on is fragile," said Zhang Xinsheng, chairman of the International Union for the Conservation of Nature Council.
"China has very rich biodiversity of its own," he said. "The 2012 IUCN Red List cites over 5,000 plant and animal species living in China, and of those nearly 1,000 species are under threat."
Patrick Haverman, deputy country director of the United Nations Development Program China, said the natural capital of biodiversity has been greatly overused during the country's pursuit of economic development, and if China's development is to be sustainable in the long term, it must conserve biodiversity as its ecological base.
"The challenge both in China and globally is in harmonizing economic growth with the preservation of the integrity of natural capital. More particularly in China, the challenge is to reconcile the conservation of this country's rich ecosystems with the demands of development, which has already lifted more than 500 million people out of poverty," Haverman said.
He said the UNDP appreciates and supports the significant efforts for biodiversity conservation undertaken in recent years by the Chinese government.
The government has given conservation of biodiversity high priority, according to Vice-Minister Li.
The China National Biodiversity Conservation Strategy and Action Plan for 2011-2030, released in September 2010, set guidelines for the country's efforts to protect biodiversity over the next 20 years.
A national committee dedicated to biodiversity conservation was also established in 2011.