Desert oasis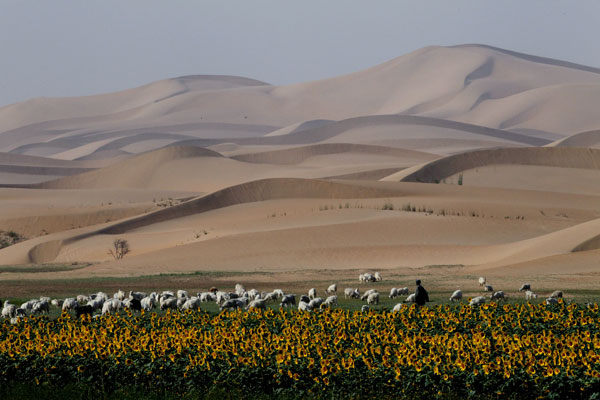 Wetlands spread like a green belt along the Yellow River, making Wuhai a colorful haven in the depth of the Gobi Desert. Provided to China Daily 
Most tourists to the Inner Mongolia autonomous region seek out the famous grasslands, but Wang Kaihao finds a kaleidoscope of colors in Wuhai.
Seeing the Gobi Desert from the window of an airplane does not give the best first impression, so it is a relief to see a green belt spread along the Yellow River. Wuhai, here I am. From above, Wuhai looks tiny. A speck in the vast 1.18 million sq km spread of the Inner Mongolia autonomous region. With an area of about 2,000 sq km and a population slightly over half a million — less than a single major residential area in Beijing — tourists usually skip Wuhai in favor of Inner Mongolia's famous grasslands.
However, I am unexpectedly overjoyed to find a kaleidoscope of colors in this tiny spot in the west of the autonomous region.
Wuhai boasts a rich coal reserve. Although some pioneers began to dig coal in 1864, large-scale exploitation only began in the 1950s, attracting people from all over the country to settle down.
Wuhai Coal Museum, designed in the shape of a lump of coal, gives a fascinating history of how this mining hub became a city.
It is also a perfect place for me to refresh my high school chemistry.
The city's name is a combination of Wuda and Haibowan, two major mining districts. By pure coincidence, the literal meaning of Wuhai is "sea of black gold" in Chinese. It is a nickname locals are proud of.
Wuhai does not have rich Mongolian traditions like other places in the region. There are only about 20,000 people from the Mongolian ethnic group living here.
Nevertheless, I still spot a museum exhibiting nearly 1,000 pieces of traditional Mongolian furniture and domestic decorations. These delicately painted items reflect Mongolian beliefs and traditions.
I also find a 30-square-meter image of Genghis Khan, which claims to be one of the world's largest hand-knotted woolen tapestries.