Treasured Islands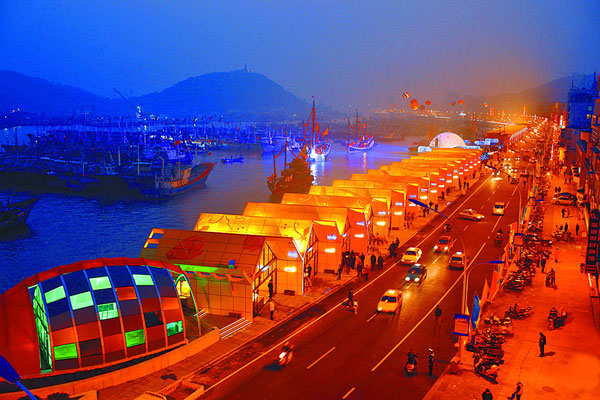 Outdoor restaurants line the seafront in Shenjiamen offering varieties of marine delicacies. Provided to China Daily
Fresh off the boats
Zhejiang
Wu Yiyao in Shanghai
If the beauty of seafood lies in its freshness, Shenjiamen, a port in Zhoushan, Zhejiang province, must be one of the best places for seafood in China.
With the largest fishing fleet in China, Shenjiamen boasts a bustling promenade of open-air restaurants that deliver fish from net to dish.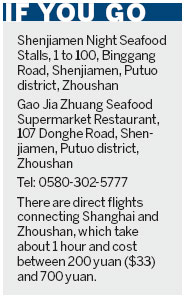 More than 60 restaurants line the promenade presenting a wide range of delectable marine goodies, some of which are unusual items that are unlikely to be found elsewhere.
Fried potherb with dried shrimps makes a crispy starter to savor. Despite its simple look, the dish requires a tasty blend of scallion, ginger and soup-stock, to combine the balanced flavors of surf and turf.
For your next course, you can choose from a spectacular display of ingredients that are simply categorized as crabs, fish or shellfish, many of which only the locals and marine biologists can name.
Crabs in Shenjiamen are usually eaten without any seasoning, so the sweetness of fresh crabmeat can be properly savored.
Stir-fried inkfish with celery also highlights the virtue of simplicity. Inkfish is stir-fried with a handful of celery until the two become juicy, then slightly boiled, with a final touch of salt and a trace of white wine.
At the end of 2011, a competition was organized to find the top 10 dishes from the 67 stalls, the first competition of its kind. The main ingredient of all the dishes had to be seafood and the cooking style had to be different from the grand hotels, which meant it had to be home-style cooking.
Not surprisingly, three of the top 10 dishes featured croaker - brown croaker soup, croaker bone and braised croaker with tofu - as it is one of the most common and versatile ingredients in the local cuisine.