Gucun Park is all cherry blossom white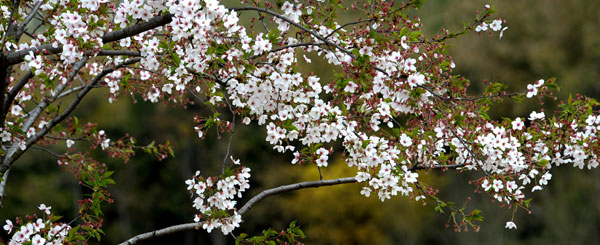 Gucun Park features cherry tree varieties that extend the flowering season to a month. Provided to China Daily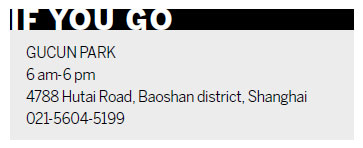 Gucun is home to the largest cherry tree park in Shanghai and is currently presenting a spectacular picture of multihued blossoms and fragrant air.
More than 10,000 cherry trees, comprising 28 varieties, cover 53 hectares.
While a Japanese proverb states that a cherry blossom blooms for just seven days, Gucun Park has gone one better by planting varieties that extend the peak blossom season to a month.
One of the earliest cherry trees to blossom, the Kawazu sakura, flowered at the end of February, a week earlier than last year because of the warm weather.
"It doesn't mean other varieties will blossom early, however. The best blossoms will come from the end of March to early April," says Zhang Zhong, head of the park's management section.
During this period, the park is set to hold its Cherry Blossoms Festival. The annual event has become well known in Shanghai, and in 2012 more than 100,000 visitors attended.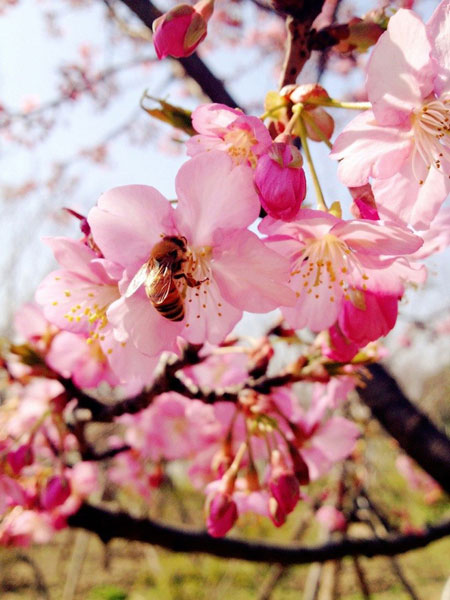 This year, the park has introduced a large number of Somei Yoshino sakura, the most popular variety of cherry blossoms in Japan, Zhang says.
"The Somei Yoshino blossoms before the leaves grow and it looks like pink clouds blown around by the wind," Zhang says. It should bloom around the time of the Tomb Sweeping Festival that falls on April 4.
A cherry tree will typically blossom and then fade within 16 days. The best time to visit is after the cherry rains fall.
Another highlight of the park is the barbecue zone, with 60 barbecue pits to grill chicken wings and enjoy the lake view. A barbecue gazebo for six people costs 90 yuan ($15) for two hours.
wuni@chinadaily.com.cn