Nothing but the whole crab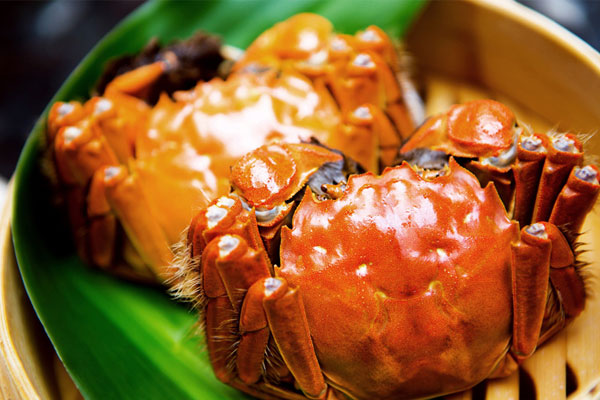 The challenge of getting into the crab makes it taste even better. Photos by CJ Henderson / China Daily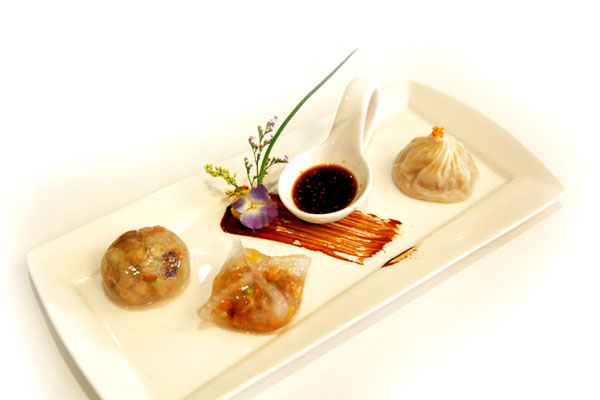 The seasonal menu at Yu Restaurant is designed around crab dishes, including these delicious dumplings.
It's that season again, and for the uninitiated, having a meal out now can be quite a hairy adventure, as CJ Henderson finds out when she dons some gloves and dives into her first hairy crab taste experience.
The executive chef of the Ritz-Carlton's Chinese restaurant, Yu, has designed a special six-course set menu around the hairy crab, taking advantage of the crustacean's brief two-month season. We went for lunch on a cold and cloudy day, and the warm green, white and wooden interior was very welcoming.
"These are special crabs. They are smaller than the Australian and Alaskan King crabs, but they are a delicacy we enjoy in this small window of time. They are a very aromatic crab; their flavor is not like any other."
Chef Ku Chi-fai went out to Yangcheng Lake in Suzhou, Jiangsu province, personally, to choose the perfect crabs for his restaurant. The trick, he says, is to steam and smell them. Quality hairy crabs give off a fragrance that tells you you've got the right product.
While the menu is designed around crab dishes, Ku wanted more. Using seasonal ingredients, Ku has aimed for a perfect balance within the six-course set menu he has designed for a real autumn feast.
Our meal began with an appetizer selection featuring a variety of small morsels to titillate our taste buds, including enoki mushroom and Chinese yam, which provided a little window into the things to come.
Next was the double-boiled seafood and tofu soup, thick and hearty and full-flavored with prawn, tofu, and mushrooms in a rich chicken broth. We found ourselves savoring every last mouthful.
When I asked Ku for his favorite dish, he recommended the baked turbot with American almond. A standout in the lunch, the almond coating was crunchy and light, the fish tasty and fresh.
A selection of dim sum followed. One bite of the crabmeat bun sent a delightful squirt of juices dribbling down my chin, as I rushed to slurp up every delicious morsel.
And then the main event: Steamed Yangcheng Lake hairy crab.
The angry looking crustacean seemed to be eyeing me off from the plate, daring me to try to get inside its well-armored body. Luckily I had the help of special tools.
"The challenge of getting into the crab makes it taste even better. It is definitely worth the effort!" Chef Ku says, watching me struggle to crack into it. He was right.
While the white meat from the legs and claws was fragrant and tasty, the real delicacy came in one golden mouthful of roe. Velvety, rich, almost sweet. The texture stayed in my mouth like nothing else, sticking to the roof of my mouth and delighting my palate.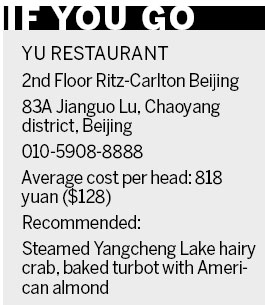 The crab was served with a vinegar-based sauce that set off fireworks on the tongue, certainly a different experience to the butter sauce I would have with crab or lobster at home in Australia.
Ginger tea was served as the after-crab beverage, good for the stomach, and for fending off that changing-seasons cold that has been going around. It warmed me through after the "cooling" yin of the crab.
The mark of a well-made fried-rice is that each grain of rice has a golden coating of egg. The fried rice that made up the penultimate dish for the day was truly the work of an expert. Every single grain had a golden crust and all topped with a saucy chicken, prawn and vegetable mixture.
Dessert was a trio of sweet little creations. An almond and egg-white tea jelly, a deep-fried crispy taro pastry puff, and, my favorite, a chilled mango sago cream with pomelo. Tart, sweet, and creamy, this dessert was like a holiday from the cold weather outside - tropical and fresh.
The crab menu will be running until the end of November, when the season ends. Get into these hard-shelled monsters while you can.
Contact the writer at callie@chinadaily.com.cn. Bi Nan contributed to the story.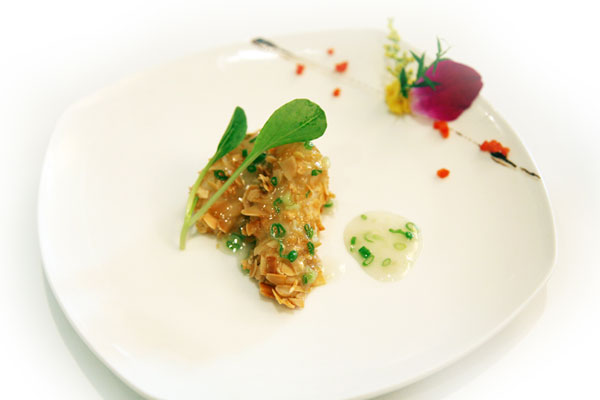 Baked turbot with American almond.