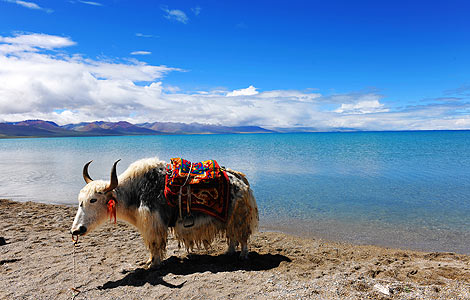 A yak stands by the Namtso Lake in Tibet in this Aug 19, 2010 file photo. [Photo by Wang Huabin/Asianewsphoto]
LHASA - A national park was unveiled on Tuesday at Namtso, a holy lake for Tibetan Buddhist pilgrims and a tourism destination near the Tibet Autonomous Region's capital of Lhasa.
The Namtso National Park also includes the main peak of Mt. Nyanchen Thanglha and Yangbajain, a place known for its hot springs, in addition to the lake.
The park is located between Damxung County, which is under the administration of Lhasa, and Bangoin County in Nagqu Prefecture.
The establishment of the park indicates that Tibet is implementing advanced tourism management methods, said Sun Yongping, deputy chief of the regional tourism bureau.
The park is Tibet's second national park following the Yarlung Zangbo Grand Canyon National Park, which opened in 2010.
Ecological protection will be underlined at the Namtso National Park, with alpine ecology and biodiversity as its focus, Sun said.
With an altitude of 4,722 meters, Namtso boasts the world's highest salt lake, known as Heavenly Lake.
The park will be open to tourists all year long.