Climb, play and pray: Nedong County, Tibet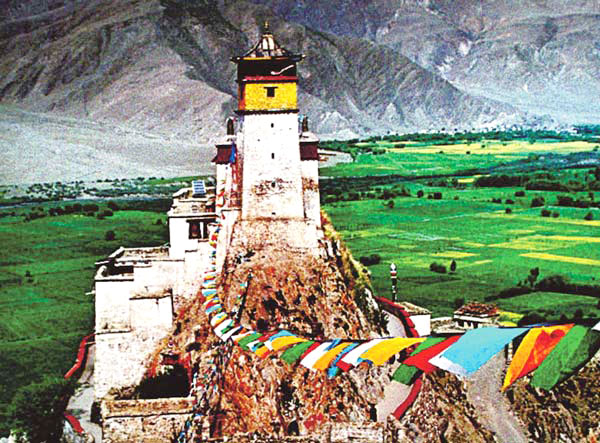 Nedong County in Shannan prefecture, in Tibet autonomous region, is an oasis of tranquility. It's home to the region's first palace as well as Tibet's first formal Buddhist monastery. The place is also known as the cradle of Tibetan history and culture.
The Samye Monastery built in the eighth century is Tibet's oldest and was the site of the "the Great Debate" (AD 792-794) between the Indian Mahayanists and Chinese Zen Buddhists. Founded during the reign of King Trisong Detsen, with the help of the Indian Buddhist masters Padmasambhava and Shantarakshita, it is widely believed to be Tibet's first formal Buddhist monastery.
All four major sects of Tibetan Buddhism share presence in Samye.
Another must-see in the region is Yambulakang, the first Tibetan palace. The palace perched precariously on the top of Mount Tashitseri, overlooking the Yarlung Zangbo River valley, which is considered the place of origin of Tibetan civilization. The palace was built more than 2,000 years ago by Nyatri Tsenpo, the first Tibetan king.
If you go: Nedong county is no more than 200 km from Lhasa. You can take a bus or rent a car. To visit the Samye Monastery, about 50 km from Lhasa airport, there are two routes. There is a bumpy two-hour drive from Zedang town along a mountain path. Or visitors can take an hour-long ferry ride across the mighty Yarlung Zangbo River as an alternative.
There are dozens of guesthouses and hotels in Nedong county. But if you're visiting Samye Monastery, it's also possible to stay in nearby monasteries as long as you pay for the beds (15 to 40 yuan, $2.36-6.30).