Growing the grassroots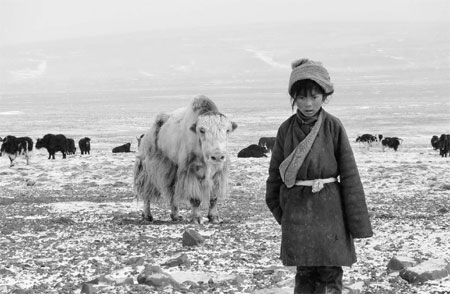 A Tibetan girl herds yaks at Maqu township, Nagqu prefecture, in northern Tibet. Provided to China Daily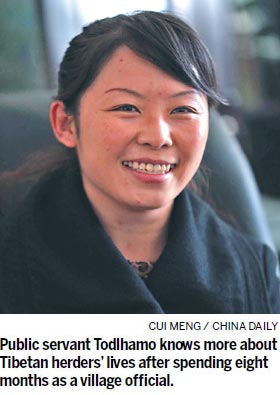 Sending local urbanites to become village officials in Tibetan townships cultivates their understandings of nomadic life. Da Qiong and Li Yao report in Nagqu prefecture, Tibet.
Although Todlhamo grew up and works in Tibet's Nagqu prefecture, her eight-month stint as a village official multiplied what she knew about Tibetan herders' lives at an average altitude of 4,500 meters.
Related: A golden heart and future
She was among the 21,804 officials in the Tibet autonomous region who've been dispatched to 5,451 villages since October 2011, to understand pressing problems facing the villagers and use their resources to make a difference.
Todlhamo, from Amdo county's education bureau, stayed in the No 2 village in Maqu township. Her teammate was Tsering Paldron from Amdo's Party discipline committee.
Todlhamo was born in Sog county and educated in Nagqu until she enrolled in Gansu province's Lanzhou Jiaotong University. After graduating in 2007, she became a public servant in Amdo.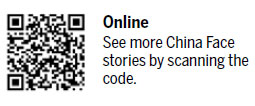 "Office life is totally different from working with the grassroots," the 27-year-old says. "Every little thing we did in the field was helpful and led to direct changes in villagers' lives."
Todlhamo and Tsering Paldron paid home visits to all families.
The sparsely inhabited village has 92 households. Five were virtually unreachable because they're on the other side of a river without a bridge.
Every team gets 100,000 yuan ($15,900) to run projects to help villagers. Todlhamo and Tsering Paldron considered building a bridge, but the funding was insufficient.
In the end, they used the money to build a store and hired a poor villager to run it.
Goods are purchased from Qinghai province's capital Xining, which is closer to the village than Nagqu or Tibet's capital Lhasa. Profits are used for the villagers' public welfare.
Villagers prefer clinics in Qinghai province because they're closer and people there speak the same dialect. But the expenses aren't covered by Tibet's medical insurance system.
Todlhamo and Tsering Paldron lent a helping hand in emergencies.
Lutso was 46 when she got pregnant in 2011. She already had nine children, not including four who'd died as infants, and she is the only able-bodied family member. Lutso was caring for her husband, who was disabled by a stroke, and her 90-year-old mother-in-law.
Lutso had a massive hemorrhage and went into shock during labor. Todlhamo and Tsering Paldron found a pickup truck and accompanied her to the township hospital.
They later raised 5,000 yuan ($800) from colleagues and bought milk powder for the infant, nutritious food for the mother and traditional Tibetan medicines to treat her husband.
Todlhamo and Tsering Paldron explained the dangers of getting pregnant so late in life.
Poverty and parental negligence are inevitable if people have another child every year, they explained.
They also persuaded parents to send their dropout children back to school. They saw through herders' excuses about tuition fee burdens because enrollment and boarding are free until university.
The duo was often suspicious of parents' promises to send their children to school, so they'd call the principal to confirm the kids were attending.
During one home visit, they met Ribu, a 9-year-old boy born out of wedlock, who lived with his mother and grandmother.
He's a second-year primary school student and only goes home during summer and winter holidays. There's nobody to send him to, or pick him up from, school.
Todlhamo and Tsering Paldron bought Ribu new clothes and shoes. They also purged his sheepskin jacket of fleas.
"Ribu was very brave and didn't cry when we took him to a doctor, who used a syringe to drain the pus from the chilblains covering his hands," Todlhamo recalls.
But her team didn't just assist the villagers. It often received their help, too.
In February, they set out for a meeting at the village head's office to elect a delegate to the county-level people's congress.
It usually takes two hours to make the 35-km journey. But heavy snow meant the trip took four times as long.
They were surprised when they finally arrived in the evening to find all the villagers waiting for them with hot butter-tea. Many had been there since 10 am.
Locals took the vote seriously. Every family sent at least one member to the meeting. They asked for corrections to inaccuracies on their voter cards, such as ages or names. Illiterate villagers asked others to write their selections for them, Todlhamo recalls.
Living conditions are harsh. There is no electricity or plumbing.
The first thing everyone does every morning is haul bags or blocks of ice to melt for water for drinking and washing. The water contained dirt and grass.
Todlhamo was indefinitely transferred to the prefecture's administration in Nagqu in June. "I used to be casual with money and never thought it was a big deal to have running water," she says.
"Now, I lead a more modest life and remember to use as little water as possible."
Tsering Paldron still works in the village. She has a 3-year-old son who lives with her parents in Lhasa.
"She cries every time she talks with her son on the phone," Todlhamo says.
The officials can take five days off a month, but the time is usually too short for a return trip because of the bad roads.
Nagqu prefecture has stationed more than 3,500 such village officials. Many have spouses living in other counties, Lhasa or Sichuan province, says Hu Rong, vice-secretary-general of Nagqu's Party committee.
"The officials get firsthand understandings and experiences in the villages," Hu says.
Contact the writers through
liyao@chinadaily.com.cn.