City guide - Shanghai, Hong Kong and Macao
Shanghai
Fukuma in Shanghai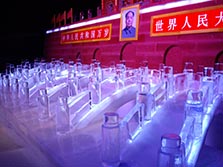 At the age of 20, Japanese pianist Kotaro Fukuma won both first prize and the Chopin Prize at the 15th Cleveland International Piano Competition. That was in 2003. Since then, he has performed in countries across all five continents. Passionate about contemporary music, Fukuma has performed works by Toru Takemitsu, Mujtsuo Shishido and Renaud Gagneux, among others.
7:45 pm, June 1.
Shanghai Oriental Art Center, 425 Dingxiang Lu, Pudong.
021-6854-1234
Art of attraction
There are many ways we express our desire to attract: Some are outrageous, while others are intimate, sexy or discreet. Often it is the artist who is most courageous and most creative in the art of attraction. In the exhibition, What Can I Do to Attract You presented by Studio Rouge, Chinese and French artists including Chen Hangfeng, Fabrice Guyot, Virginie Lerouge Knight and Lin Jingjing audaciously explore the art of attraction.
10 am-5 pm, June 16-July 15.
Studio Rouge M50, Bldg 7, 50 Moganshan Lu.
138-0174-1782
Mystical corners
In a limited space, there exists at least one intersection that extends to multi-dimensions, which is what we call a "corner" in architectural structures. Two indie artists, Xiao Ming and Xiao Hong, consider it as a mystical place. Using paper, they will show their understanding of corners through their show Xiao Ming & Xiao Hong.
10 am- 5 pm, until June 30.
50B, Fengxian Lu, Shanghai.
021-6384-2432
Hong Kong
Wine on
China's emerging winemakers are set to rub shoulders with legendary Bordeaux grand cru such as Chateau La Lagune and new world star Napa Valley's Beringer, at the biggest Vinexpo Asia-Pacific 2012. This year's three-day fair is expected to draw 1,050 exhibitors from 28 countries, showcasing the best of the best in the world of wine and spirits. Some 14,000 buyers are expected to fill the 105,000-square foot (9,755 sq m) floor space - an increase of 25 percent from the last edition of the popular show.
9:30 am-6:30 pm, May 29-31.
Level 1, Hong Kong Convention & Exhibition Center, 1 Expo Drive, Wanchai.
www.vinexpo.com
Annie's coming to town
The beloved Broadway smash Annie makes her way to Hong Kong this year featuring an all-star cast of local talents alongside Su Pollard as Miss Hannigan and David McAlister as Daddy Warbucks. Sing along to musical classics including Tomorrow, Easy Street and It's a Hard Knock Life at this Lunchbox Productions of a little orphan girl whose sunny smile and piercing pipes win over even the stoniest of hearts.
7:30 pm, Tue-Fri; 2 pm & 7:30 pm, Sat; 2 pm & 7 pm, Sun. May 31-Jun 10.
Lyric Theater, Hong Kong Academy for Performing Arts, 1 Gloucester Road, Wanchai.
Program enquires: 852-8203-0299; ticketing: 852-2584-8500
Macao
Summer on ice
Looking for a place to take the kids while on holidays? The Venetian's Ice World returns for its second annual show with 18,000-square feet of frozen fun. Heilongjiang Provincial Ice and Snow Art Development's best ice artists are supported by Macao Government Tourism Office for this winter in summer extravaganza. Kept at a frosty - 8 C, you can bundle up in borrowed hooded parkas and boots while marveling at the 10 zones of colorful sculpture. Don't miss the icy version of Tian'anmen Square, and make sure you get a photo of yourself as a frozen Eskimo.
Noon-8 pm daily through Sept 16.
Hall F, CotaiExpo, The Venetian Macao, Estrada da Baia de N. Senhora da Esperanca, s/n, Taipa.
www.venetianmacao.com/iceworld