PPI growth hints reform measures are taking effect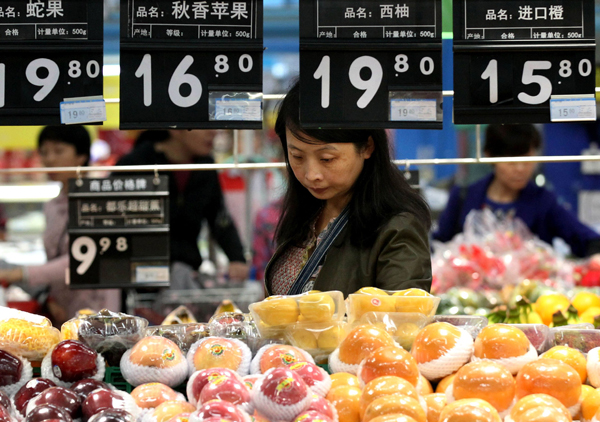 Rising food prices in China pushed consumer inflation to a higher-than-expected 1.9 percent in September. Last month, food prices rose by 3.2 percent year-on-year. Zhu Xingxin / China Daily
Producer prices registered positive uptick in September for the first time in five years
China's producer prices registered positive growth in September for the first time in nearly five years thanks to the national campaign to reduce overcapacity and higher international commodity prices, analysts said.
The producer price index, which gauges factory-gate prices, rose by 0.1 percent year-on-year in September, the National Bureau of Statistics said on Friday.
The PPI had been falling in China since March 2012, and the prolonged producer price deflation has proved a heavy burden on the corporate sector. It turned positive slightly earlier than market expectations - many economists predicted it would happen in October.
The domestic corporate sector has benefited from the central government's policies to stabilize growth and cut excessive production capacity this year, a factor in the PPI turnaround, said Yu Qiumei, a senior NBS statistician. She also said the rising international prices of commodities, such as oil and iron ore, are a main contributor.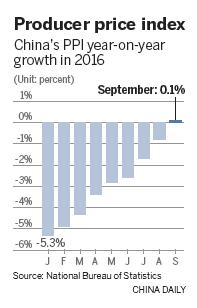 Thanks to China's growth-stabilizing policies and overcapacity reduction, redundant and poorly efficient production capacities have been cut significantly, which has affected market supply and helped push industrial prices, said Zhao Xijun, a Renmin University of China economist. Meanwhile, international commodity prices have stabilized and started to rebound, which contributed to China's PPI rise, he said.
"The uptick in the PPI shows the country's growth-oriented economic policies have worked," said Sun Lijian, an economist at Fudan University in Shanghai.
Zhao said, "The PPI turning positive shows the manufacturing sector is recovering, a sign of rising stability in the overall economy".
Sun Xuegong, deputy director of the National Development and Reform Commission's Economics Institute, said on Friday that China can achieve its GDP growth target of at least 6.5 percent this year.
Analysts said the PPI could continue to rise in the fourth quarter. "Month-on-month PPI growth may ease in the fourth quarter, but given the relatively low base in the same period last year, it could continue to rise on a year-on-year basis," said China Merchants Securities Co analyst Yan Ling.
China's consumer price inflation, indicated by the consumer price index, rose more than expected to 1.9 percent in September year-on-year, mainly caused by higher food prices, the NBS said on Friday. Food prices in September rose by 3.2 percent year-on-year, compared with 1.3 percent in August.
The reading beat market expectations and indicated consumer inflation was picking up, but it is too early to worry about China encountering a major consumer inflation problem, said Zhou Hao, an analyst at Commerzbank AG in Singapore. The recent tightening policies targeted at the real estate sector showed that authorities had started to monitor the spillover effect of asset bubbles on food and service prices, he said. "CPI could very probably rise above 2 percent this year."