Experts: Capital outflow bearable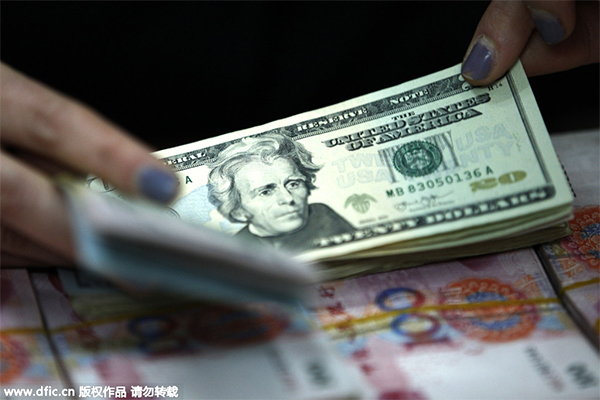 A Chinese clerk counts US dollar banknotes over yuan notes at a bank in Huaibei, East China's Anhui province, Jan 22, 2015. [Photo/IC]
China's foreign exchange reserve shrank for the third consecutive month in September, but the capital outflow pressure is still within reasonable range, economists said.
The reserve, the world's largest, stood at $3.17 trillion in September, down by $18.79 billion from August, data from the People's Bank of China, the central bank, indicated on Friday.
The latest figure was released after Yi Gang, the bank's deputy governor, said on Thursday in Washington that China's economic growth remains robust, with an annual rate forecast at 6.5 percent to 7 percent.
Su Jian, an economics professor at Peking University, said the country's reserve "remains adequate and is way above what is needed to cope with external challenges".
He attributed the monthly decline to a possible interest rate increase in the United States.
"Outflow pressure does exist with lingering market expectations for near-term depreciation of the yuan," said Su, referring to the US Federal Reserve's potential interest rate hike in December.
But Xie Yaxuan, chief economist at China Merchants Securities Co, said China is able to cope with external uncertainties.
"The capital outflows are not that worrisome," said Xie, adding that the yuan has become more volatile after the central bank adopted a more market-orientated central parity rate system in August last year.
Zhao Yang, chief China economist at Nomura Holdings Inc in Hong Kong, said seasonal factors were also behind the shrinking foreign exchange reserve, as Chinese tend to purchase foreign currency before the National Day holiday.
Xie said the yuan's recent inclusion in the International Monetary Fund's Special Drawing Rights basket would not have a major impact on the two-way capital flows.
He dismissed concerns over potential capital flight in conjunction with the yuan's internationalization process after the SDR inclusion.
Xie said he expected that China's foreign exchange reserve will continue to shrink in the near future, but at a slower pace, as capital inflows will tend to increase slightly after the yuan's SDR inclusion.