NANCHANG -- Chinese President Hu Jintao visited railway staff and police officers on duty and ordinary people in eastern Jiangxi Province on the first day of the Lunar New Year to extend his festival greetings.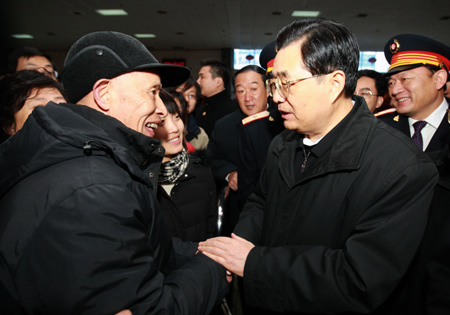 Chinese President Hu Jintao (R Front) shakes hands and talks with a passenger at the Nanchang Railway Station in Nanchang, capital of east China's Jiangxi Province, Jan. 26, 2009. Chinese President Hu Jintao visited railway staff members, China Mobile branch workers and police officers on duty and ordinary people in Nanchang Jan. 26, the first day of the Spring Festival, or Chinese traditional lunar New Year, to extend his festival greetings. [Xinhua] 
At the Nanchang Railway Station Monday morning, Hu talked with passengers and ticket sales staff to check whether travelers had difficulty in buying tickets.
Related readings:


Spring Festival 2009
Related readings:


 Hu visits revolutionary base before Lunar New Year


 Festival marks new beginning for Chinese, foreigners


 Hu visits army officers ahead of Lunar New Year


 Festival shopping spree despite downturn
Spring Festival, or the Chinese Lunar New Year, falls on January 26 this year. It is the biggest family reunion time. There is always a travel rush around the festival as a huge population of people migrate and join with their families.
"You've been working hard. I hope you can think of more ways to help more passengers get tickets," the president told a sales clerk in the ticketing hall.
In the railway command center and on the platform, Hu inquired about passenger flow and transport schedule, expecting to see that railway authorities work out scientific transport scheduling, improve service and ensure safety as transport pressure remains serious after the festival.
With the fact that the number of cell phone subscribers has exceeded 600 million in China and there is soaring business volume in the festival period, Hu went to the Jiangxi branch of China Mobile to inspect the company's operation, service and management.
He was happy to learn that the company's call center also offers migrant workers employment information and answers inquiries about agriculture from local farmers.
Expressing his New Year greetings to the company staff on duty, Hu said that people cannot do without mobile phones in their work and daily life, the service center should improve service and contribute more to local economic and social development.
Jiangxi Guohong Group Co., Ltd. is an industrialized agricultural production base, helping farmers plant fruits and vegetables, raise pigs and process farming and sideline products.
Seeing the farm produces and products on display, Hu said that the central government has strengthened policies and measures favorable to farmers amid the current severe economic situation while large numbers of migrant workers are returning home.
On the other hand, rural enterprises should take advantage of their role in the countryside and help more farmers increase income, the president said.
At the Kuaizixiang police station in the provincial capital of Nanchang, Hu said the station has been a model among the country's public security departments and the police officers have been approved by local people with their responsible and conscientious work. In particular, the police forces from Jiangxi had been outstanding in the earthquake relief in Sichuan Province last May.
Stepping out of the police station, Hu went toward a group of residents who were dancing to celebrate the Lunar New Year.
Hu, also general secretary of the CPC Central Committee and chairman of the Central Military Commission, made the visit in the company of Su Rong, secretary of the Jiangxi Provincial Committee of the Communist Party of China (CPC), and Governor Wu Xinxiong. He also listened to the work reports made by the provincial officials.
Commending the economic and social achievements in the province, Hu urged the officials to share happiness and woes with the masses of people, enhance their awareness of responsibility with good work performance, show a pioneering spirit to overcome difficulties, and stay away from illegal personal interests and temptations.