BEIJING -- Many Chinese received a smaller bonus this year because of the global financial crisis and decided to tighten their belts, but they still let their hair down for the traditional Spring Festival.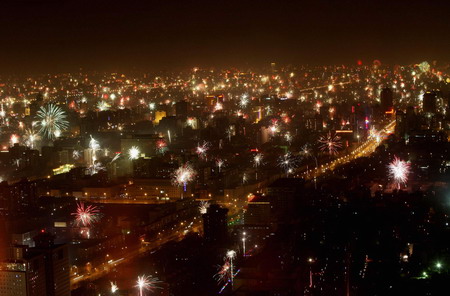 Fireworks to celebrate the Chinese New Year illuminate the skyline of Beijing January 26, 2009. Chinese welcomed the arrival of the Year of the Ox with raucous celebrations on Sunday despite gloom about the economy, setting off firecrackers in the streets and sending fireworks into the sky. [Agencies]
The freezing weather and slowdown in economic growth did not affect Chinese people's festivities, with supermarkets and shopping malls crowded with shoppers seeking goods for the Spring Festival celebration.
Full coverage:

Spring Festival 2009
Related readings:


 Wen in quake zone to celebrate New Year


 Leaders extend new year greetings to nation


 Subsidy given to the needy before Lunar New Year


 Chinese Lunar New Year celebrated worldwide
Even dairy products, which have experienced shrinking sales because of the melamine scandal, were selling.
Milk powder products of domestic brands have reappeared on the shelves, a Xinhua reporter found in Wal-Mart at Xuanwumen, Beijing.
"This is the safest period for dairy products as the government has intensified quality supervision and inspection after the scandal," said saleswoman Qiao Xinhong.
Many Chinese people like to buy boxed milk or yogurt for family reunions or as gifts to friends and relatives during the holiday.
Dairy products, however, were only one part of people's shopping list, and snacks with wider varieties, clothes, jewellery and home appliances were also popular.
The week-long Spring Festival holiday, which starts from Sunday, is China's closest equivalent to the West's Christmas shopping season.
According to the Ministry of Commerce, sales at the country's major retailers on Thursday were 2.4 times as much as that on December 31.
China's real retail sales growth in December accelerated 0.8 percentage points from November to 17.4 percent, according to figures released by the National Bureau of Statistics (NBS) Thursday.
Retail sales jumped by 21.6 percent last year to 10.8 trillion yuan (US$1.6 trillion), which was 4.8 percentage points higher than 2007.