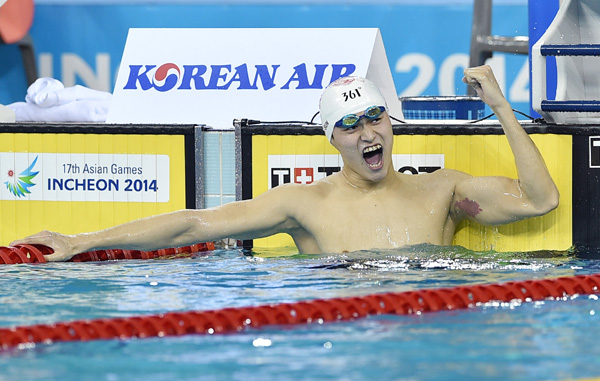 Gold medallist Sun Yang of China reacts after winning the men's 400m freestyle final swimming competition at the Munhak Park Tae-hwan Aquatics Center during the 17th Asian Games in Incheon September 23, 2014. [Photo/Xinhua] 
INCHEON, South Korea - China got an upper hand in a closely watched fight for swimming medals as it bagged six out of seven gold medals at stake on Tuesday night at Munhak Park Tae-hwan Aquatic Center.
As the focus of the day, Sun Yang of China clocked 3:43.23 and won the men's 400m freestyle, after a hotly contested race against Kosuke Hagino (3:44.48) of Japan, who took silver, and Park (3:48.33) of South Korea, who settled with bronze.
Sun had been leading the race since the 100 mark.
Hagino, who upset Sun in 200 free on Sunday night, admitted that this time he was unable to catch up with Sun's speed.
"I was doing well at the 200-300m mark, but during the last 100m, I realized I could not catch Sun at that speed," said the Japanese. "But it was a great experience. It was really fun to compete with strong athletes on this stage. It was a very helpful experience."
Hagino collected his fifth medal, bringing him to a total tally of three golds in 200m freestyle, 400m individual medley, and 4x200m freestyle relay, one silver, and one bronze in 100m backstroke.
Park, the Games record holder, could not overcome the pressure of not only competing at a venue named after him, but also on home turf in front of fans with high expectations. He was second at the 300m mark, but wore down and slipped to third place behind Hagino.
Olympic champion Ye Shiwen of China won the women's 400m individual medley, defending her title with 4:32.97, a new Games record.
Sakiko Shimizu of Japan came in second in 4:38.63, while Thi Anh Vien Nguyen of Vietman finished third in 4:39.65, a rare appearance for this Southeast Asian country in swimming podium.
Chinese finished 1-2 in the women's 100m butterfly final.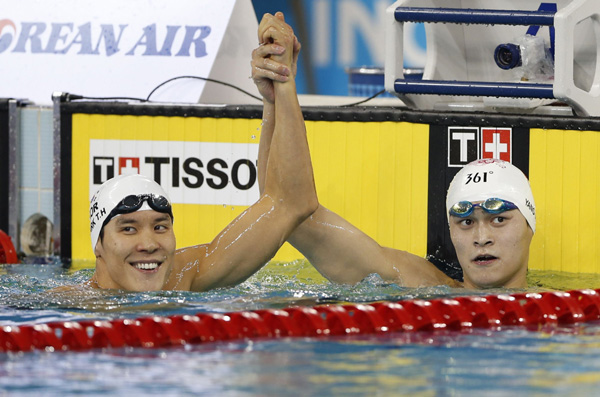 Gold medallist Sun Yang of China (R) and bronze medallist Park Tae-hwan of South Korea join hands to acknowledge their fans after the men's 400m freestyle final swimming competition at the Munhak Park Tae-hwan Aquatics Center during the 17th Asian Games in Incheon September 23, 2014.  [Photo/Agencies]
Chen Xinyi splashed home in the winning time 56.61 seconds, a new Asian Games record. Lu Ying, silver medalist at the London Olympic Games, took silver in 58.45, and Tao Li of Singapore took bronze in 59.08.
Ning Zetao of China was first to hit the wall at 21.95 in the men's 50m freestyle, winning China's first gold in men's swimming.
Shinri Shioura of Japan followed close behind at 22.11 for second, while his teammate Kenta Ito rounded out the podium in 21.66.
"I've already raced him once in January, but no matter who the competitor is, I just focus on what I have to do," Ning said.
Fu Yuanhui of China won the women's 50m backstroke in 27.66 seconds. Yekaterina Rudenko of Kazakhstan took silver in 28.04, while Miyuki Takemura of Japan clocked 28.27 for bronze.
China aced the race in the women's 4x200m freestyle relay in 7:55.17. Japan took silver with 7:58.43, and the Hong Kong foursome clocked 8:04.55 for bronze.
The Chinese quartet of Guo Junjun, Tang Yi, Cao Yue, and Shen Duo led the race from start to finish.
For Japan, Chihiro Igarashi, Yasuko Miyamoto, Yayoi Matsumoto, and Aya Takano tried hard to challenge China, but had to settle with silver.
Dmitriy Balandin of Kazakhstan clocked 2:07.67 to secure the men's 200m breaststroke gold, the only one that the Chinese failed to get.
Kazuki Kohinata and Yasuhiro Koseki, both of Japan, won silver and bronze respectively.
A towering Dmitriy Balandin, who aced the heats, was behind Koseki till the 100m mark, but he took the lead from the last 50m.
Kohinata was swimming behind Koseki up to the 150m mark, but soon outswam his teammate.
China now holds nine women's golds and two men's golds, ahead of Japan's six golds in men and one in women.