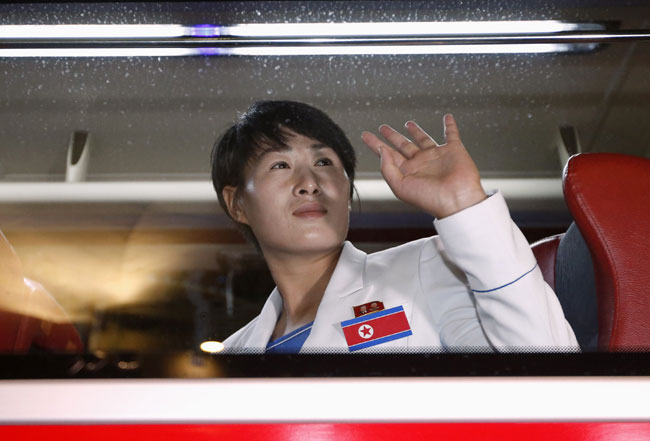 A member of the DPRK's contingent waves from inside a bus as they leave upon their arrival for the upcoming 17th Asian Games, at Incheon International Airport in Incheon, Sept 11, 2014. [Photo/Agencies]
INCHEON,
Republic of Korea
- DPRK will send Olympic gold medalists and world champions to the upcoming 17th Asian Games to be held in Incheon,
Republic of Korea (

ROK

)
, from Sept 19 to Oct 4.
According to the organizing committee for the Games, DPRK will send 150 athletes to compete in 14 of 36 sports, featuring Olympic champions and winners of recent world championships.
Om Yun-chol, the 2012 Olympic weightlifting gold medalist and the 2013 world champion in the men's 56kg division, will take part in the Asiad. The 152-centimeter dynamo holds the world record in clean and jerk with 169kg, which he set during the Asian Interclub Championships in Pyongyang last September.
DPRK has another world record holder in weightlifting with Kim Un-guk, the 2012 Olympic gold medalist in the men's 62kg class. His winning total of 327kg has stood as the world standard for more than two years.
Rim Jong-sim, another Olympic weightlifting champion in the women's 69kg, will also be in Incheon, west of Seoul.
Ri Se-gwang is expected to duel South Korea's Yang Hak-seon for the gold medal in the men's vault in artistic gymnastics. Yang won the 2010 Asian Games gold, two years before claiming his first Olympic title, while Ri was the 2006 Asiad gold medalist.
In wrestling, Greco-Roman wrestler Yun Won-chol, the 2013 world champion in the men's 55kg class, will compete at the Incheon Asiad.
The table tennis mixed doubles duo of Kim Hyok-bong and Kim Jong won the world championship last year in Paris and will try to claim their first Asian Games gold together.
In judo, Sol Kyong, who won the 2013 world title in the women's 78kg, and Hong Kuk-hyon, the world silver medalist in the men's 73kg last year, will headline the delegation.
DPRK ranked among the top 10 in Asiad medals in 1974, 1978, 1982, 1990, 1998 and 2002, but finished 16th in 2006 and 12th in 2010.