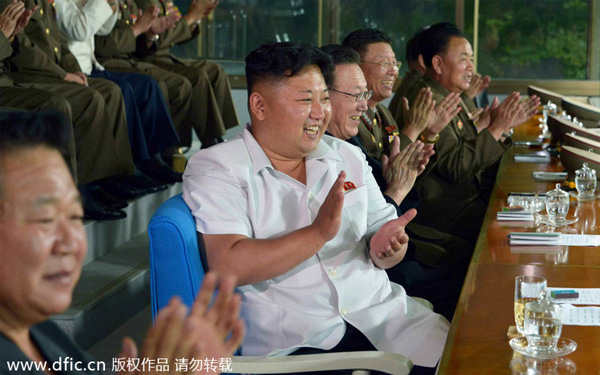 Democratic People's Republic of Korea leader Kim Jong-un looks over a training session of the country's national football team in this photo released by DPRK's Rodong Shinmun on July 20, 2014.  [Photo/Agencies]
Democratic People's Republic of Korea leader Kim Jong-un has "great expectations" for his nation's athletes at the upcoming Asian Games in the Republic of Korea, state media said on Sunday, despite Pyongyang's earlier threat to boycott the event.
The DPRK had announced plans to send athletes and cheerleaders to the Games in Incheon from Sept 19-Oct 4, but inter-Korea talks on Thursday to coordinate the visit broke down due to a disagreement over several issues including who was going to shoulder the cost of the trip.
The impasse caused Pyongyang to threaten a boycott.
Kim, however, watched the national soccer team beat another side 12-0 in a practice match and said the country's participation at the Asiad would help boost cross-border ties, the state-run KCNA news agency reported.
"The participation of the (North)'s players in the 17th Asian Games offers an important occasion in improving the relations between the North and the South and removing distrust between them," the KCNA quoted Kim as saying.
"Great are expectations and interest of our people in the Games ... it is our principled stand that the inviolable sports should not be a political bargaining chip of the undesirable forces."
The KCNA dispatch did not address the dispute over the delegation's trip to the South or whether it planned to resume talks with Seoul.
Pyongyang on Friday threatened to pull out of the Games, accusing Seoul of showing a "defiant attitude" over accepting the North's delegation.
The DPRK said in May it would send about 150 athletes and later that they would be accompanied by a cheering squad.
During the talks last week, Pyongyang officials suggested sending 350 athletes and 350 cheerleaders - record highs for a DPRK delegation sent to a sporting event in the South.
Seoul reportedly proposed to break from its past tradition of financially supporting visiting sporting delegations from the DPRK to move into line with international sporting standards.
The DPRK bristled at the change and warned on Friday it would "fundamentally re-examine" its participation at the Games.
The ROK said in response that the issue of who paid was still open to negotiation.
Pyongyang boycotted the 1988 Olympics in Seoul but sent athletes and cheerleaders to the 2002 Asian Games in the South.