No shining results but some hopefuls at Chinese National Swimming Champs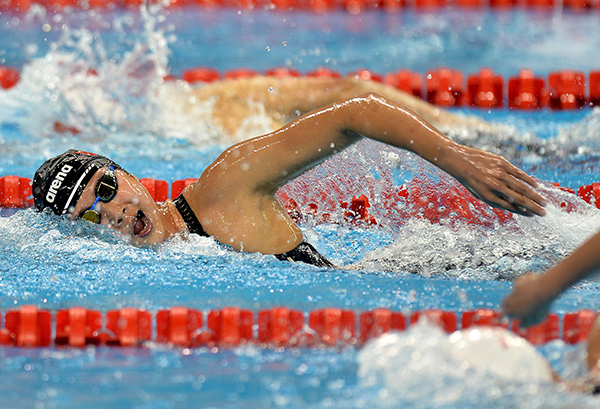 File photo of Wang Jianjiahe, 15, competes during the 2017 FINA/airweave Swimming World Cup in Doha, Qatar on Oct 5, 2017. Wang wins both the 400m and 800m free. [Photo/Xinhua]
HUANGSHAN, Anhui - The five-day Chinese National Swimming Championships concluded here on Tuesday with no shining results but several hopeful rookies.
The tournament was more like a junior competition as China's top swimmers such as Sun Yang, Fu Yuanhui and Li Bingjie were all absent after competing at the World Championships and National Games in a row.
Wang Jianjiahe, 15, took her second title in Huangshan by winning the women's 800m freestyle final in 8:37.93 on Tuesday. She was also the winner of the 1,500m race.
"I'm too tired to swim smoothly today," said Wang of Liaoning, who took part in five individual events this time. "I still need to enrich my experience and to improve my strength of sprint."
Earlier this month, Wang beat teammate Li Bingjie in the 800m race at the short course World Cup in Doha, smashing the world junior record with a time of 8:15.35.
Wang Yichun made a splash at a even younger age as the 12-year-old girl from Shandong grabbed two gold medals of butterfly at the National Championships after learning swimming for six years.
She also took a silver in the 50m freestyle in 25.57 on Tuesday, 0.34 seconds behind the winner Wu Qingfeng from Zhejiang.
"I performed not bad. I can learn something from every competition," said Wang, who finished fourth in the 100m butterfly final at the National Games.
"My body grew up earlier than most of my peers. So when I took part in the junior tournaments, I always felt that it's not a fair play," said Wang in a height of 1.74m.
Sun Jiajun of Hubei clinched the title of the men's 200m breaststroke in 2:12.09. The 17-year-old also won the 100m butterfly and took silvers in the 50m breaststroke and the 100m breaststroke.
Ji Xinjie, 20, won his fourth title in individual freestyle events by touching the wall first in the men' s 400m race in 3:51.08.
"I have to say that I'm not competitive yet in the 200m and 400m races in major international events," said Ji. "My focus will be on the long distance events."