Ronaldo wins FIFA Men's Player of the Year award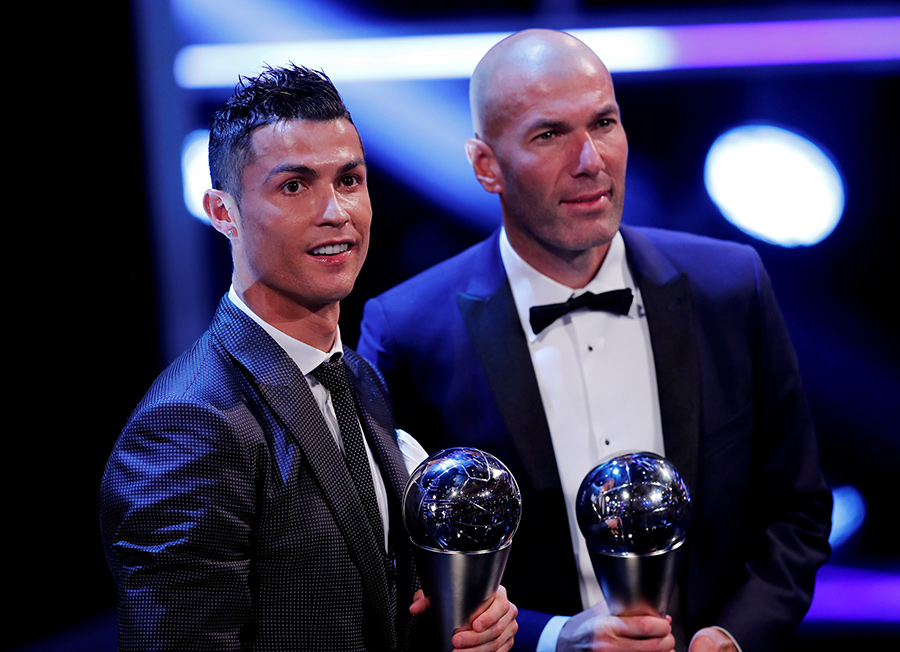 Real Madrid's Cristiano Ronaldo celebrates with Real Madrid coach Zinedine Zidane after winning the best men's player at the Best FIFA Football Awards at London Palladium, London, Britain, Oct 23, 2017. [Photo/Agencies]
LONDON - Cristiano Ronaldo was named the best men's player at the FIFA Best Awards ceremony at the London Palladium theatre on Monday, beating Lionel Messi and Neymar.
The Real Madrid forward, who also won the award last year, has took the honor for the fifth time, the same as Barcelona super star Messi.
FIFA has shifted the ceremony from January to October so players are judged across a European season instead of the calendar year.
The 32-year-old said, "Thanks a lot for voting for me. I mention Leo and Neymar, great to be here. Real Madrid supporters, my team-mates, my coach, they all support me all year.
"We are in England for the first time and I win consecutive awards. I am really glad, this is a great moment for me. I have fans all over the world.
Ronaldo led Real Madrid to championships in both the UEFA Champions League and La Liga. He scored twice as the Spanish champions beat Juventus 4-1 in the Champions League final in Cardiff.
Real Madrid manager Zinedine Zidane was awarded the Best Men' s Coach. Dutch duo Lieke Martens and Sarina Wiegman were rewarded as The Best FIFA Women' s Player and Women' s coach.
Gianluigi Buffon was named The Best FIFA Goalkeeper, which was set up for the first time in history.
Buffon, approaching 40, was also named in a FIFPro team which also feature Ronaldo, Sergio Ramos, Marcelo, Toni Kroos and Luka Modric, Dani Alves, Leonardo Bonucci, Andres Iniesta, Messi and Neymar.
Fans from around the globe voted in their hundreds of thousands for the Puskas and FIFA Fan Awards, with Frenchman Olivier Giroud the ultimate winner thanks to his superb "scorpion kick" goal scored for Arsenal against Crystal Palace in the English Premier League. Celtic supporters won their second Fan Award, thanks to their stunning 360-degree card tribute to the "Lisbon Lions".