ANTA becomes official partner of Beijing 2022 Winter Olympics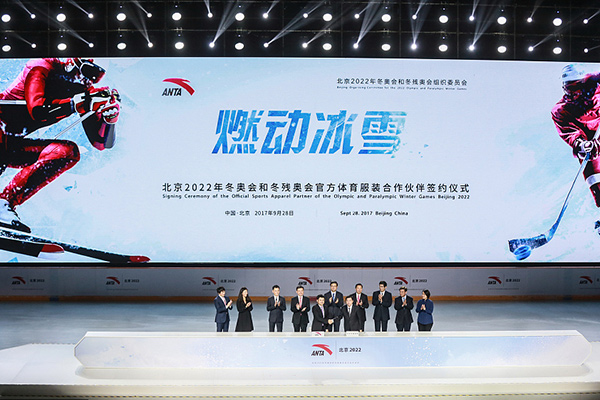 Signing ceremony of the official sports apparel partner of the Bejing 2022 Winter Games is held in Beijing on Sept 28. [Photo/VCG]
BEIJING - China's leading sportswear brand ANTA has signed a deal to become an official sponsor of the Beijing 2022 Winter Olympics and Paralympics.
Zhang Jiandong, vice-president of Beijing Organizing Committee for the 2022 Olympic and Paralympic Winter Games, and Ding Shizhong, board chairman and CEO of ANTA, signed the partnership agreement in Beijing on Thursday.
As the official sports apparel partner for Beijing 2022, ANTA will supply Chinese athletes and Beijing 2022 staff with sports apparel containing typical Chinese elements to showcase China's national image, said Zhang.
"ANTA will not only provide best-quality service to Beijing 2022, but will also work to help promote winter sports development in China," said Zheng Jie, executive board director for ANTA's branding.
ANTA, which has supplied the Chinese Olympic team for the previous eight years including kitting the team for the Rio 2016 Olympics, is the fourth domestic partner for the 2022 Winter Games.
The Beijing 2022 Organizing Committee announced domestic partnerships with the Bank of China, Air China, YiLi Group in July and August this year.